Invest in a world-class business education following the same curriculum and high-quality standards as our UK campus, resulting in the same prestigious degree.
A TOP 10 UK BUSINESS SCHOOL
Founded in 1945, Henley was one of the first business school to be established in the UK and is one of the oldest and most respected schools in Europe. The Financial Times European Business Schools Ranking 2020 saw Henley Business School maintain a UK top 10 position.
THE HENLEY ADVANTAGE
A business education is more than just the paper qualification. As a business school, Henley's reputation provides students with a number of distinct advantages:
Being a truly international business school
The excellence of the learning experience
World-class research and thinking
Our sense of community and responsibility
The strength of Henley's alumni networks
The breadth and depth of our relationships with industry
It is not surprising that many of Henley's graduates go on to become corporate leaders and captains of industry.
HENLEY IN MALAYSIA
The degrees offered by Henley in Malaysia mirror those awarded on the UK campus, and the programmes follow the same rigorous curriculum and quality standards, all taught by highly-qualified faculty. Students and parents can be assured that the business education they receive at Henley in Malaysia is just as good as what they would receive on the UK campus.
The highly-selective programmes offered by Henley in Malaysia provide students with excellent career prospects and employability, and include
Furthermore, all degree are accredited by the Quality Assurance Agency (QAA) in the UK, the Malaysian Qualifications Agency (MQA) and carry appropriate recognition by professional bodies.
HENLEY'S EXPERT FACULTY
As with Henley in the UK, our academic team at the Malaysia campus are international experts in their field. 75% of the faculty are PhD-qualified and many possess relevant professional qualifications and industry experience in banking, real estate, stockbroking and investment research. Our faculty are committed to giving students the best possible learning experience..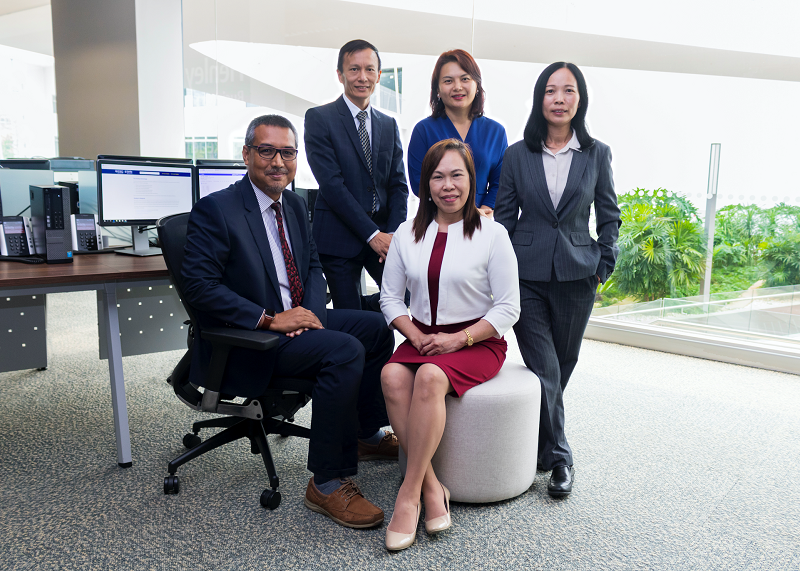 ACADEMIC TEAM
LEADING THE WAY
Henley is leading the way in Malaysia's higher education ecosystem on a number of fronts.
In Malaysia, Henley has partnered with the prestigious Institute of Chartered Accountants in England and Wales (ICAEW) to launch the Henley-ICAEW Programme (HIP). HIP provides students with the quickest route to chartered accountancy with ICAEW.
Henley was also one of the first in Malaysia to establish a cutting-edge Financial Dealing room to enable students to develop real-world trading skills on the same platform used by financial institutions around the world.
Henley's Real Estate programme, which is ranked #2 in the UK for Land and Property Management (Complete University Guide 2021), and is the first in Malaysia with triple-country recognition in Malaysia (BOVAEP and RISM), the UK (RICS) and Singapore (SISV).
EXCELLENT EMPLOYABILITY
Our programmes are designed to holistically develop both hard and soft skills in our students. We have an excellent track-record of employability. The majority of our graduates find professional positions in well-respected companies.
FACILITIES
Students at Henley Malaysia have access to some of the very best facilities available at a business school in Malaysia. The stunning modern campus building located in Educity, Iskandar Puteri, is a reflection of the future. The campus houses IT-enabled classrooms, lecture theatre, labs, learning resource centre and student social areas all conveniently under one roof. We are one of the very few business schools in Malaysia with a financial dealing room.