Graduation will always be a special moment. In general, Graduations take place late July or early August. Invitations to those expected to attend will be sent in May. However this year, due to COVID-19, the university to hold the ceremony online.
Graduation Dates
PLEASE NOTE THAT DUE TO COVID-19 the graduation for 2021 will be held online.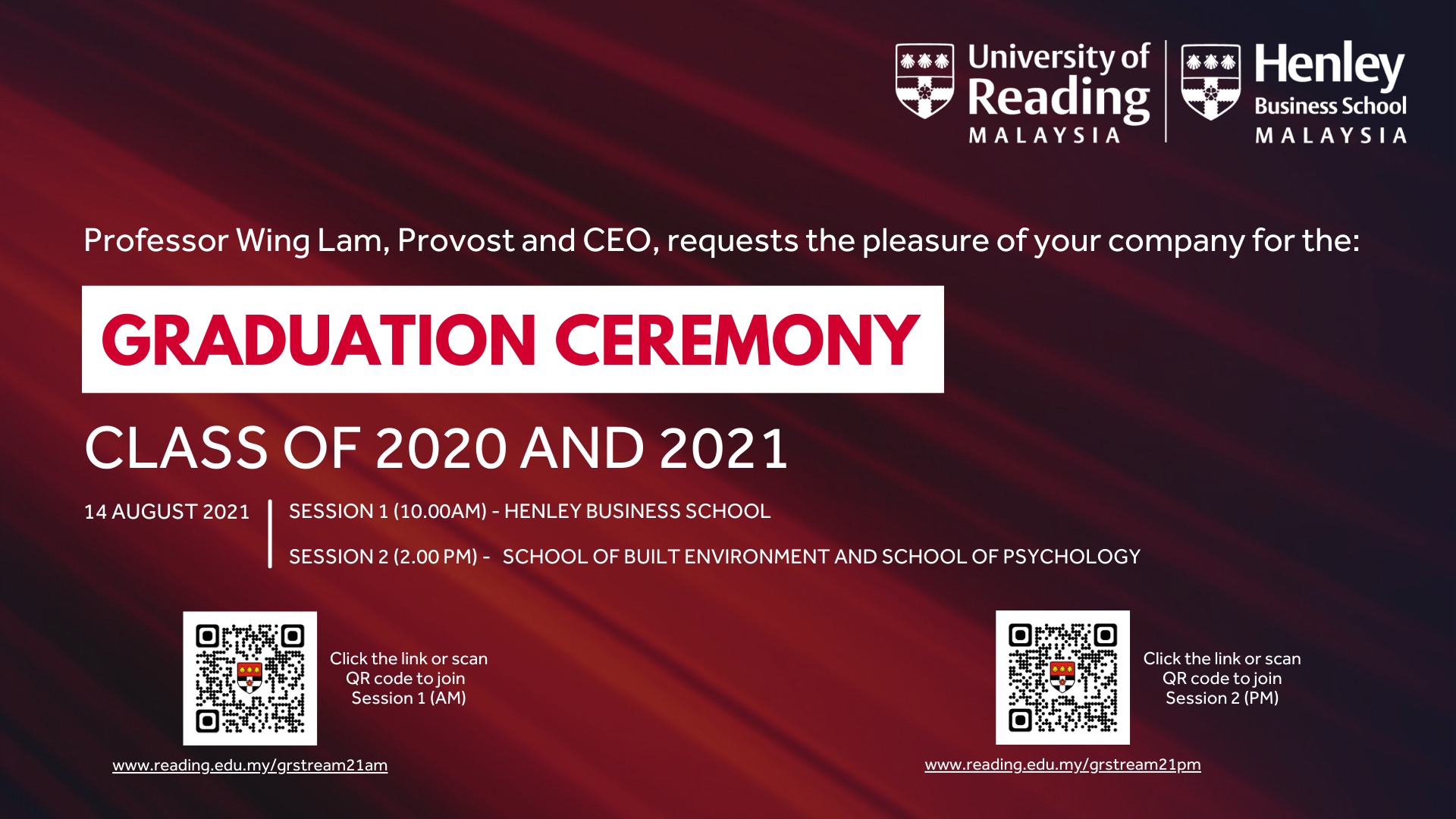 Date : 14 August 2021
SESSION 1 - 10.00 AM (MYT)


-


HENLEY BUSINESS SCHOOL


Join Here


SESSION 2 - 2.00 PM (MYT)


-


SCHOOL OF THE BUILT ENVIRONMENT, AND
SCHOOL OF PSYCHOLOGY AND CLINICAL LANGUAGE SCIENCES
Join Here


Frequently Asked Questions.
How can I join the Virtual Graduation Ceremony Events?
The event is broadcast on Youtube during the above mentioned times. It is the whole ceremony which includes messages from graduands who have provided messages earlier.
What do I need to do on the day of the Virtual Graduation Ceremony Events?
Click on the links above to join the event. All students and guests can log in and join 5-10 mins before the event start via the links above.
Do i need a webcam to join the session?
There is no webcam needed. Please join the live chat join the live chat during the broadcast.
Am I allowed to attend both events?
You have the freedom to pick the sessions you wish to attend.
Do I need to have a YouTube account to join?
You are not required to join the event with an account. We allowed you join as guest.
What technology do I need to attend this event?
For the best experience, we suggest using a desktop/laptop computer or a mobile phone and the Chrome internet browser. A smart tv will also work as well and allows the whole family to see the screen.
But I want to attend a physical graduations. Will I be allowed to attend the next physical graduation ?
As per the email sent earlier, all graduands of 2020/2021 will be allowed to join the next physical ceremony.
Facebook Frames.
We have made some Facebook frames for you to use tomorrow. We did not pass it on earlier as it was meant to be a surprise!!.
There are Facebook frames that students can use. Search for UormGraduation, Classof2020 and Classof2021.
If you need help to use the frames below, do have a look at this video .
Contact Us
If you need any additional information regarding graduation please email. This email address is being protected from spambots. You need JavaScript enabled to view it.