We provide flexible options for students who wish to spend part of their studies on our campus in Reading UK and enjoy a once-in-a-lifetime global experience.
The university provides students with a range of flexible options allowing them to spend part of their studies at our award-winning campus in Reading UK, which is only 22 minutes by train from London. This makes the university the ideal choice for students who are interested in a global overseas experience, knowing the university is there to support them.
Examples of the options available to students are shown in the graphic below: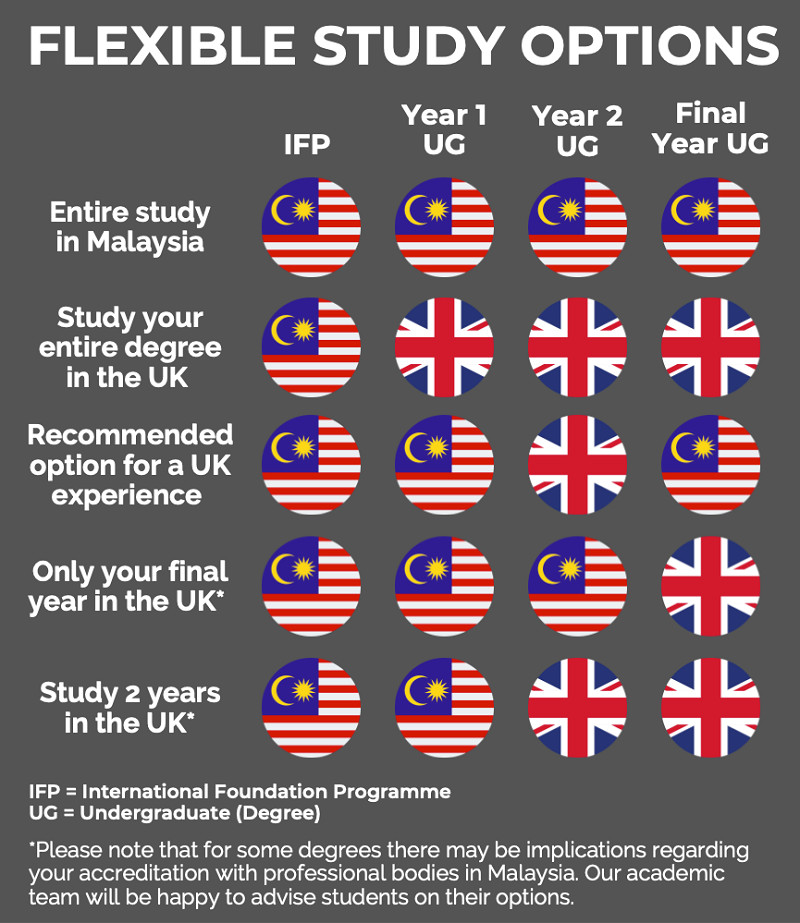 It's also worth noting that there is wider range of degree options available on the UK campus compared with the Malaysia campus; hence, it may be possible to transfer to another but related programme within the same school.
Additionally, any student of the UoRM International Foundation Programme has the opportunity to transfer to the UK to undertake a wide range of degrees, including all those offered at the Malaysia campus, plus Economics, International Relations, Construction Management, Food Marketing, Agricultural Management, and many options of Business and Finance degrees.
Students should also be aware that there may be implications related to professional accreditation in Malaysia for students wishing to undertake mobility and transfer; our team will be happy to advise students accordingly.
Students who undertake mobility and transfer will be required to pay international student fees for study on the UK campus; however, a discount is available for students from the Malaysia campus.
OUR STUNNING CAMPUS IN READING, UK
The university's main campus in Reading UK is set in 130 hectares of beautiful parkland and has won the Green Flag award nine times in a row, making it one of the UK's best green spaces. The campus has everything a student could need, including sports facilities, eateries, a supermarket and on-campus accommodation.
For a virtual tour of the campus please click on the link below.
https://www.reading.ac.uk/virtual-experience/
The university is a short bus ride away from Reading town centre which has ample shops, restaurants and amenities. Reading town is also conveniently located, being only a 22-minute train ride from London.
BENEFITS AND THINGS TO CONSIDER
The experience of living and studying in the UK provides many benefits including the opportunity to:
meet new friends and expand your network
embrace a new culture and environment
enhance your intercultural awareness
develop your independence
improve your spoken English
learn from different academic staff members
sample different learning methods and approaches
showcase your global awareness on your CV
Some things to bear in mind when considering studying in the UK are as follows:
You will need to pay fees as an International student, which are more expensive than the fees in Malaysia. However, students from the Malaysia campus are eligible for a discount.
The living costs in the UK are higher than in Malaysia.
Class sizes on the UK campus tend to be much larger than on the Malaysia campus.
In some cases, there may be implications on your professional accreditation in Malaysia; our team can advise you on this accordingly.
Depending on the individual, you may need some time to adjust to a new environment, which may impact on your academic studies.
INTERNATIONAL OFFICE
To find out more about the opportunities, eligibility and discounts, please contact the International Student Office:
This email address is being protected from spambots. You need JavaScript enabled to view it.

- for current students.

This email address is being protected from spambots. You need JavaScript enabled to view it.

- for prospective students or contact any member of our counselling team.
Students may also refer to additional information on studying and living in the UK found below.
https://www.reading.ac.uk/essentials/International
TESTIMONIALS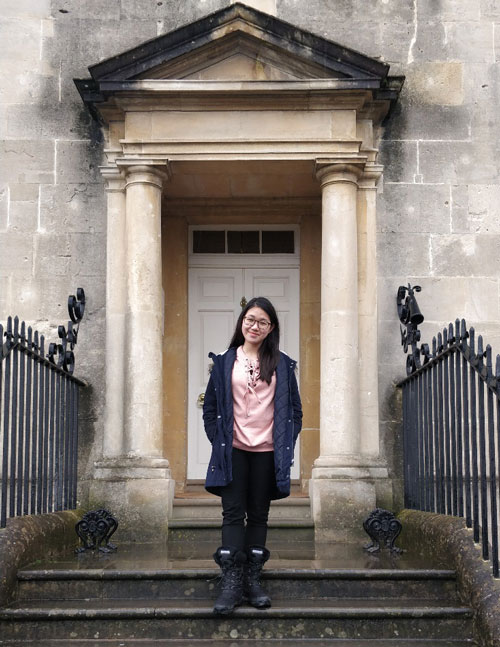 Elizabeth Shu Lynn Tang
Hi there! My name's Elizabeth, and I'm a 2nd-year exchange student from the September 2016 cohort of the BSc Accounting and Finance course. And if you're wondering if a study abroad experience is as amazing as it sounds, it is! With this short passage, I'd like to share with you a humble story of one that has never left home.
So when I first thought of studying in the UK, numerous questions and doubts popped into my head. Yet I found myself going through the motions of applying for a visa, travelling all the way to KL to settle my documents, and buying the necessary winter clothing from Uniqlo. Fast forward to the end of September, I ended up in this foreign country with a new culture, a challenging climate, and a whole different academic environment to get used to for a year.
The first week I entered the university, I was wowed by the size of the campus. Walking around the UK campus consistently reminded me that I had to do more sports to improve my stamina because you had to walk so much! The number of students in a lecture can also easily come up to 200. Another surprising fact that I'd discovered is that the people here, no matter what country they're from, are really easy to befriend and communicate with. Furthermore, the infinite number of clubs and societies that are available to choose from got me so excited to re-start my campus life! The most impressive thing about the UK is, of course, the country itself. I remember when I first arrived in London, I was over-excited being on the Tube, and went to some of the famous tourist attractions such as the Big Ben, Camden Market, St. Paul's Cathedral, and Westfield, which is one of the largest shopping malls in London.
Besides the attractive lifestyle and travelling spots that you could explore, it is also of course extremely important to juggle with both work and leisure. Budgeting also became my next routine task as I had to be careful not to overspend. Still, despite the subtle pain when you have to spend money here or the occasional pang of nostalgia when you see your friends and family at home having fun without you, I would never, ever give up this experience for anything else in the world. For those of you who are hesitating, if you've got the economic resources and a thirst for an adventure, an exchange programme no matter how short, can never go wrong.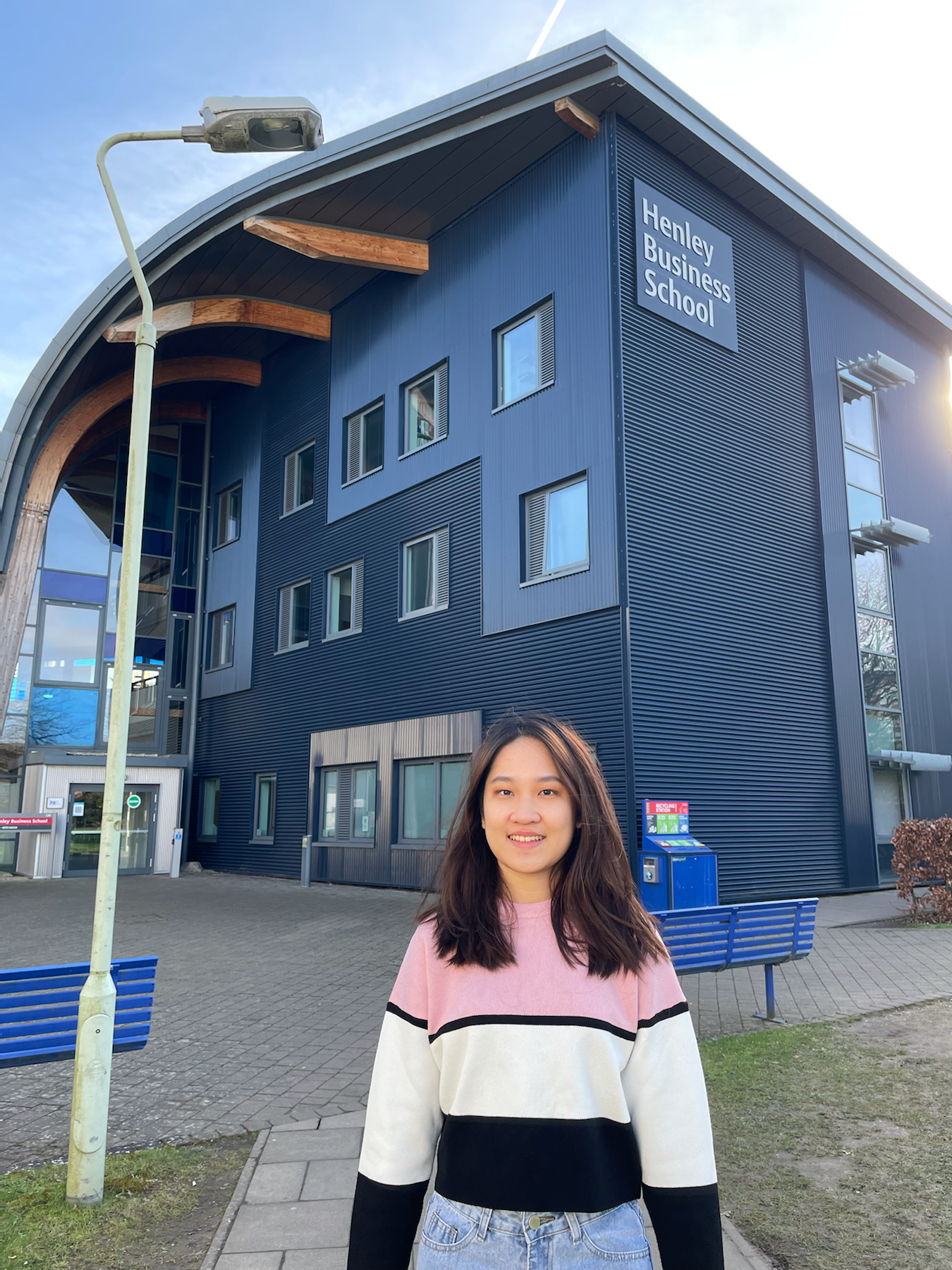 Janice Chung
Hi my name is Janice. I'm currently in my second year studying real estate. Studying at the University of Reading has been the most amazing time of my life, especially when I transferred to the UK campus.
Even though the Covid-19 pandemic has given me some troublesome moments, I did not regret transferring here as I got so many different experiences that I could never get in Malaysia. In just 4 months since I've transferred, I did a part-time job as a waitress, I joined societies and met friends from different countries, I volunteered at a primary school, and the best part is I travelled to different cities in the UK. What's better is when you can travel and study at the same time, especially when London is just 30 minutes away! I also get to experience living in a four-season country, which is a chance that you can't easily get. 


The UK campus is so beautiful and big, there's a lake, sports park, restaurants, cafes, marts and many more. You will be expected to walk a lot, so those who want to lose weight, you can be slimmer just by walking! The learning facilities there are very good, the library has 6 levels and different kinds of spaces for you to study, and there's many useful events, talks or 1 to 1 support for those who want to enhance their knowledge. The study environment is different too, students there are so proactive in class and more independent in learning. It was hard to adjust at first, but eventually I got through it with the help of lecturers and friends. There's too much to talk about life in the UK, but I assure you that you can experience much more than me when you go there. So, for those who are considering studying in the UK, what are you waiting for? Don't worry too much because this experience is really worth it!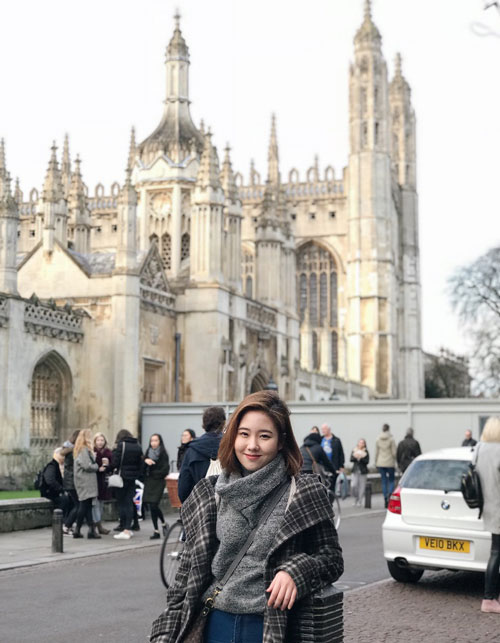 Ng Hai Ning
Through the three months mobility program, I was able to explore and discover culture and lifestyle of the UK, which is very much different from Malaysia, through living in the country but not as a tourist. Not only that it gave me the opportunity to make new friends from different countries that I would not normally hang out with, it also broadened my viewpoint of the world and gave me greater sense of independence. It is a decision that I will never regret!
September 2017/18 Batch