Dr Siohong Tih | Associate Professor in Entrepreneurship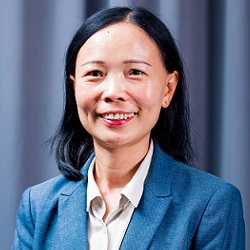 Dr Tih is an Associate Professor of Entrepreneurship at Henley Business School, University of Reading Malaysia. She has more than 15 years of teaching experience in tertiary business education. She received her BBA from Universiti Kebangsaan Malaysia (National University of Malaysia); Post-graduate Diploma in Entrepreneurship from Judge Business School, University of Cambridge, United Kingdom; MBA from Keele University, UK and PhD in marketing from University of Strathclyde, Scotland.
Dr Tih is involved in teaching, training, research and consultancy projects. She teaches Undergraduate, Masters and Doctorate courses in the area of entrepreneurship, marketing management, consumer behaviour, and research methods. She has been involved in several projects, namely Attitude Assessment and Leadership Development, Entrepreneurship and SME Development, e-Marketing, Consulting-based Learning in Entrepreneurship Education, Marketing of Tropical Fruits, Online Purchasing Behaviours.
Dr Tih has provided consultancy services to both government agencies and private companies in the areas of universal service provision, technology mapping programme, customer satisfaction surveys and new product concept testing. She has presented papers at various international conferences and published articles in peer-reviewed journals such as Journal of Business & Industrial Marketing, The International Journals of Retail and Distribution, Global Business & Economics Anthology, Journal of Agribusiness Marketing, Asian Academy of Management Journal.
Email

This email address is being protected from spambots. You need JavaScript enabled to view it.

Telephone

+607 268 6384

LinkedIn profile

-

Speciality areas

Entrepreneurship, Marketing

Highest qualification and awarding body

BBA (UKM), PDE (Judge Business School, Cambridge UK MBA (Keele, UK), PhD (Strathclyde UK)

UoRM programmes taught/supervised

Introduction to Business

Practice of Entrepreneurship

Entrepreneurial Project

Strategy and International Business

Research interests

Entrepreneurship Training and Education, Marketing, Consumer Behaviour

Current projects

Entrepreneurship education and Start-up development.

Online Consumer Behaviour.

Recent publications

Tih, S.H., Wan Hussain, W.M. H., & Nik Hashim, N.M.H. (2019) Innovation and entrepreneurship bootcamp: a descriptive study assessing the effectiveness of entrepreneurship education, International Journal of Business and Globalisation, Vol 22, No2, pp.240-257.

Shook Mei Chan and Siohong Tih (2017) "Determinant Factors of Industrial Purchasing Personnel's Adoption of Internet for Business Purchasing Related Activities" LogForum Scientific Journal of Logistics, 13 (3), 297-311.

Sahar Hosseinikhah Choshaly and Siohong Tih (2017) "The Factors Associated with the Behavioural Intention of Eco-labelled Products" Pertanika Journal of Social Sciences and Humanities, 25 (S), 195-206.

Nur Faithzah Jamian and Sio-Hong Tih (2016) "Managing a Green Campus: Motivation for Student Recycling Behavior", Journal of Marketing Management and Consumer Behavior, 1(1), 62-75.

Tih, S.H., Wong, K.K., Lynn, G., Reilly, R. (2016) "Prototyping, customer involvement, and speed of information dissemination in new product success", Journal of Business & Industrial Marketing, 31(4).

Hasni N. Juhdi, Tih Sio Hong, and Nurita Juhdi (2015) "Market Orientation and Entrepreneurial Success: Mediating Role of Entrepreneurial Learning Intensity", Jurnal Pengurusan, 43(June).

Sahar Hosseinikhah and Siohong Tih (2015) "Consumer Confidence and Environmental Behavioral Science", Advanced Science Letters, 21(6), 1923-1926.

Rahida Ramli and Siohong Tih (2015) "Consumer Adoption of Recycled Bag for Retail Shopping", American Journal of Economics, 5(2), 43-50.

Shamsul Huda Binti Abd Rani and Tih Sio Hong (2013) "Antecedents and Consequences of Entrepreneurial Quality among Graduate Entrepreneurs", Asian Journal of Business and Management Sciences, 2(9), 44-55.

Siohong Tih and Kean Heng Lee (2013) "Perceptions and Predictors of Consumers' Purchase Intentions for Store Brands: evidence from Malaysia", Asian Journal of Business and Accounting, 6(2), 107-138.