Discover a wide range of career paths in PSYCHOLOGY with a versatile qualification
Why choose to study psychology?
A degree in psychology provides an excellent starting point for a career in both science and the arts. It equips you with a fundamental and flexible IR4.0-ready skill set, which opens up opportunities to a wide variety of professions. Although psychology is typically associated with clinical work and psychotherapy, the field is rich and diverse, and offers numerous career options that involve aspects of the human mind and behaviour.
What can you do with a psychology degree?
While some psychology graduates pursue further study and training to become professional psychologists, many successfully find employment in related disciplines.
Major employers of psychology graduates include, but are not limited to:
Hospital settings or mental health clinics
Educational institutions, including special needs centres
Human resources departments
Marketing and sales companies
Social services
Market research and consultancy firms
Advertising and media agencies
User experience (UX) design agencies
Government and policy makers
Pharmaceutical industry
What does a psychology degree have to offer?
It is the sheer number of transferable skills and range of expert knowledge that you will gain that makes psychology distinctive. You will be explicitly trained in critical thinking, advanced research methods, psychological testing and assessment, complex data handling, and higher-order analytical skills. You will be able to impart valuable insights into human behaviour, and understand large data sets, which is very valuable in almost any career.
The nature of psychology work can vary tremendously; you can pursue a job that fits your interests, strengths, and salary requirements. For example, a clinical or counselling psychologist works to improve psychological wellbeing; a marriage and family therapist helps address issues affecting the functioning of a family; an industrial and organisational psychologist applies psychological principles to increase employee engagement and workplace productivity; whilst a UX research analyst, akin to a data scientist, seeks to understand the needs of consumers and product users in the digital world
Why study at the University of Reading?
The University of Reading Department of Psychology was formed in 1921, making it one of the oldest of its kind in the UK. Our School of Psychology and Clinical Language Sciences has a long-standing reputation for excellence in psychology teaching, research, and training.
Throughout our BSc Psychology programme, you will gain a solid grounding in all core areas of psychology, including biological psychology, cognitive psychology, developmental psychology, individual differences, social psychology, conceptual and historical issues in psychology, and research methods. In your final year, you will carry out a project that encourages you to think about how psychological research impacts the world we live in.
Our BSc Psychology programme is accredited by the British Psychological Society (BPS). This accreditation gives our graduates eligibility for Graduate Basis for Chartered (GBC) Membership and, through this, access to postgraduate training courses in the UK and elsewhere.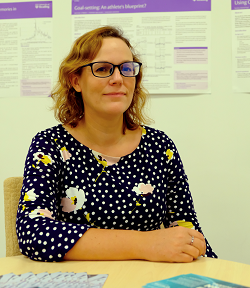 Assoc Prof Dr Rachel Pye
Head of Psychology and Clinical Language Sciences
University of Reading Malaysia