Contact us directly via
Tel:
+60 (7) 268 6205
WhatsApp/Mobile:
+60 (16) 7725 400
Email:
This email address is being protected from spambots. You need JavaScript enabled to view it.
APPLY NOW FOR APRIL* & JULY INTAKES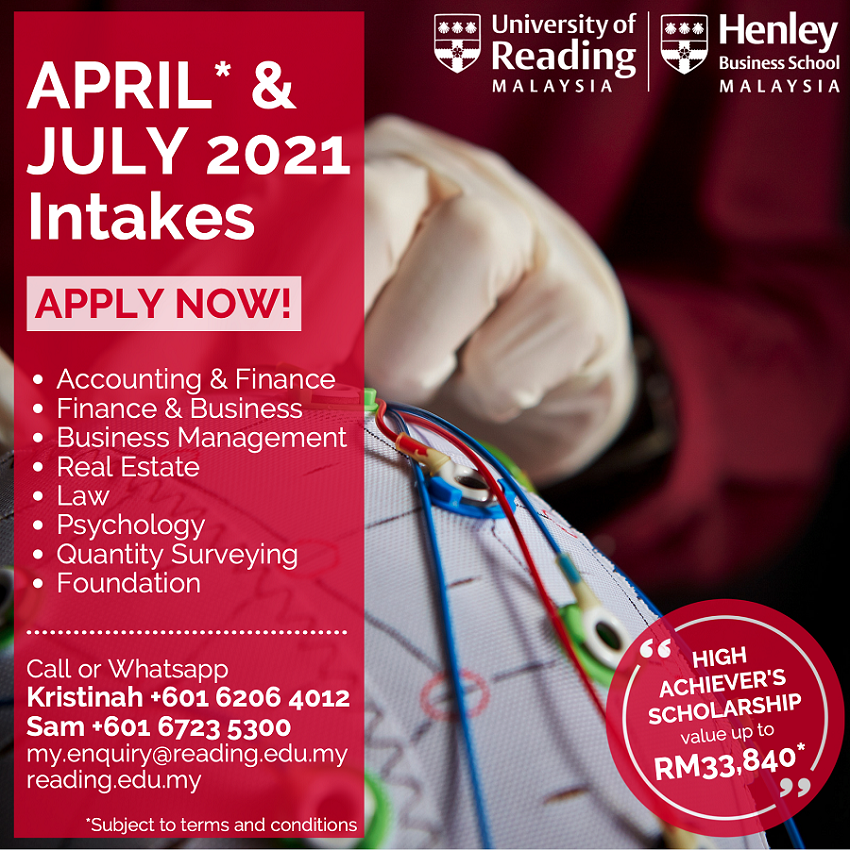 Click here to submit your application.


1-TO-1 CAMPUS VISITS OR CONSULTATION SESSION
Please call us to arrange a 1-to-1 campus visit or a virtual consultation session through phone or WhatsApp at a mutually convenient time.
Our team will advise you on health and safety procedures relating to Covid-19 before your visit.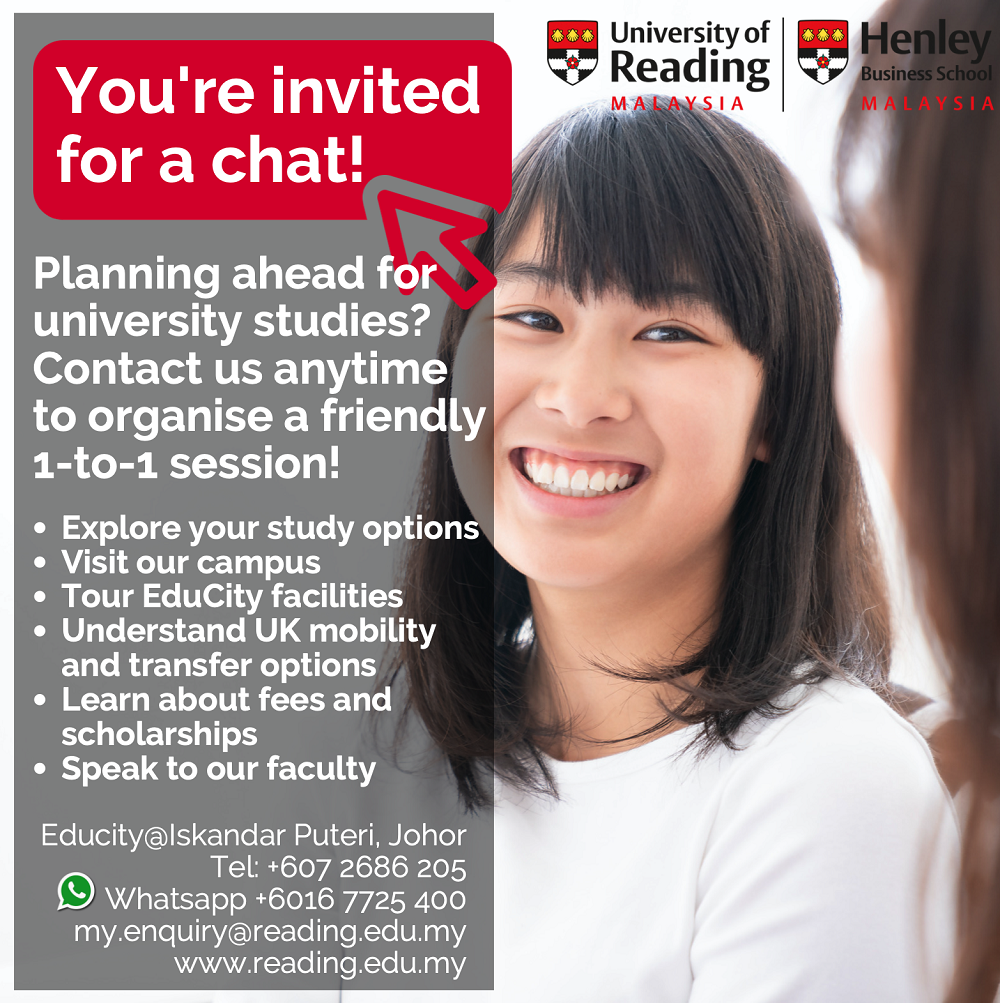 Virtual and Physical Events
Date
Time
Events
Type of Event
Venue/Location
Year 2021

23rd March

1pm - 5pm

FEN Public Education Fair, March 2021 – Johor Bahru

Physical

Trove Hotel, Johor Bahru

26th March

12pm - 5pm

FSI Fair - Johor Bahru

Physical

Venue: Holiday Inn JB City Center

26th March

12pm - 5pm

FSI Fair – Alor Setar

Physical

Venue: Star City Hotel

27th March

12pm - 5pm

FSI Fair - Penang

Physical

Venue: Jen Hotel

27th March

12pm - 5pm

JM Education Fair 2021 – Johor Bahru

Physical

KSL Hotel & Resort, Johor Bahru

27th March

12pm - 5pm

FSI Fair - Johor Bahru

Physical

Venue: Holiday Inn JB City Center

29th March

12pm - 5pm

FSI Fair - Ipoh

Physical

Venue: Weil Hotel

29th March

12pm - 5pm

FSI Fair - Melaka

Physical

Venue: Double Tree by Hilton Hotel Melaka

17th April
10am – 4pm
Information Day
Physical
Venue: University of Reading Malaysia
15th May
10am – 4pm
Information Day
Physical
Venue: University of Reading Malaysia
19th June
10am – 4pm
Information Day
Physical
Venue: University of Reading Malaysia
3rd – 4th July
11am – 7pm
EDUCATION & FURTHER STUDIES FAIR - SERIES 53 (KL) WEEK 1
Physical
Venue: Mid Valley Exhibition Centre, Kuala Lumpur
3rd – 4th July
11am – 7pm
EDUCATION & FURTHER STUDIES FAIR - SERIES 53 (JB)
Physical
Venue: SouthKey, Mid Valley Exhibition Centre, Johor
3rd – 4th July
11am – 7pm
STAR Education Fair
Physical
Venue: Setia SPICE Convention Centre
10th – 11th July
11am – 7pm
EDUCATION & FURTHER STUDIES FAIR - SERIES 53 (KL) WEEK 2
Physical
Venue: SouthKey, Mid Valley Exhibition Centre, Johor
17th July
10am – 4pm
Information Day
Physical
Venue: University of Reading Malaysia
21st August
10am – 4pm
Information Day
Physical
Venue: University of Reading Malaysia
18th September
10am – 4pm
Information Day
Physical
Venue: University of Reading Malaysia
2nd - 3rd October
11am – 7pm
HIGHER EDUCATION FAIR 2021
Physical
Venue: Mid Valley Exhibition Centre, Kuala Lumpur
16th October
10am – 4pm
Information Day
Physical
Venue: University of Reading Malaysia
20th November
10am – 4pm
Information Day
Physical
Venue: University of Reading Malaysia
4th – 5th December
11am – 7pm
EDUCATION & FURTHER STUDIES FAIR - SERIES 54 (KL)
Physical
Venue: Mid Valley Exhibition Centre, Kuala Lumpur
11th – 12th December
11am – 7pm
EDUCATION & FURTHER STUDIES FAIR - SERIES 54 (JB)
Physical
Venue: SouthKey, Mid Valley Exhibition Centre, Johor
11th – 12th December
11am – 7pm
STAR Education Fair
Physical
Venue: Setia SPICE Convention Centre
18th December
10am – 4pm
Information Day
Physical
Venue: University of Reading Malaysia