Sr (Dr) Ong See Lian, KMN | Visiting Fellow, Executive Chairman of Benchrisda Associates Sdn Bhd | Former Global President of RICS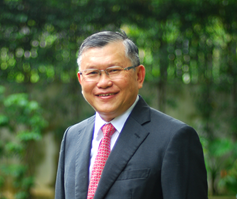 Dr. Ong has an illustrious career spanning over 45 years in both the public and private sectors. He was the Senior Partner of Davis Langdon & Seah, an international practice of quantity surveyors and project managers and its Malaysian associates JUBM Sdn Bhd until his retirement at the end of 2010. He also headed the project management arm of the group. He is currently the Executive Chairman of Benchrisda Associates Sdn Bhd, a company devoted to dispute resolution work.
Dr. Ong was the President of the Royal Institution of Surveyors Malaysia, RISM (2003 – 2004) and Chairman of Pacific Association of Quantity Surveyors (PAQS) (2003 to 2005.
He was the 130th Global President of the Royal Institution of Chartered Surveyors, RICS (2011-2012) - the first non-British citizen, first Asian and the first Malaysian to be elected to this prestigious position in RICS.
He also took on the chairmanship of the Standard Setting Committee for International Construction Measurement Standard (ICMS), which is responsible for the establishment of global standard and consistency on construction cost. Through his leadership ICMS has published two international standards, ICMS-1 in July 2017 and ICMS-2 in August 2019.
He was the Chairman of FIG Commission 10 (Construction Economics & Management) from 2015 to 2018 and was instrumental in the establishment of the BIM for Surveyors workshop series.
Dr. Ong is a multiple awards winner for his contributions to the construction industry and the surveying profession including the "Surveyor of the Year" by RISM, "PAQS Gold Medal" by PAQS, "Most Prominent Player in the Construction Industry" by CIDB Malaysia, Gold Award by Board of QS Malaysia, Distinguished International Fellow (DIF) by International Cost Engineering Council (ICEC), the "David Bucknall Award" by RICS and RICS President's Medal.
Email

This email address is being protected from spambots. You need JavaScript enabled to view it.

Telephone

+6012-2787103

LinkedIn profile

500+ Connections

Speciality areas

Quantity Surveying, Project Management, Construction Contracts, Arbitration, Mediation, Adjudication

Highest qualification and awarding body

B.Sc (Hons.) QS (University of Reading)
Hon. Doctor of Science (University of Reading)
FRICS, FRISM, FCEM, DIF, FHKIS (Hon.), FARES (Hon)

UoRM programmes taught/supervised

N/A

Research interests

Cost management

Current projects

N/A