Dr Sivaraman Kuppusamy | Lecturer in Built Environment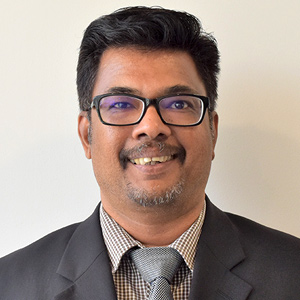 Dr Siva has teaching experience as a Senior Lecturer with many foreign universities from Australia, New Zealand, China and UK who have Architecture, Engineering and Construction (AEC) twinning programmes.
Dr Siva has worked as Project Engineer and Project Manager for 5 years in various established developer and contractor companies in the construction industry. He has completed Bachelor in Housing, Building & Planning (Hons) in 1993, Masters of Environment (Built Environment) in 2004 and Doctorate of Education (Construction) in 2016. Dr Siva is very passionate and have been teaching since 1998 for 22 years for various undergraduate and postgraduate architecture, engineering and construction students. He is a Chartered Construction Manager, Chartered Institute of Building (CIOB-UK) and a Fellow of Higher Education Academy (UK). Dr Siva is also a professional technologist with the Malaysian Board of Technologists and a Quantity Surveying Technologist - Board of Quantity Surveyors Malaysia (BQSM)..
Email

This email address is being protected from spambots. You need JavaScript enabled to view it.

Telephone

+6016 2053 114

LinkedIn profile

https://www.linkedin.com/in/dr-ts-sivaraman-k-51367b35/

Speciality areas

Environmental Education, Sustainability, Green Building

Highest qualification and awarding body

Doctorate in Education

UoRM programmes taught/supervised

Quantity Surveying, Construction Management & Building Surveying

Research interests

Embodied Energy, Teaching & Learning

Current projects

Student-Faculty Partnership Book Chapter

Recent publications

Kuppusamy, S, Mari, T.S., Gunasagaran, S., (2016), "Development of Career Related and Teamwork Skills Using Service Learning in Undergraduate Architecture Education". TARUC International Conference on Learning and Teaching (TIC 2016). Link

Kuppusamy, S, (2016), "Environmental Literacy of Year 2 and Year 3 Undergraduate Architecture students in selected private universities", National Postgraduate Education Research Colloquium.

Kuppusamy, S, Mari, T.S., (2011), "Instilling Environmental Awareness in Architecture Students", 5th International Conference On Built Environment in Developing Countries (ICBEDC 2011).

Kuppusamy, S, Mari, T.S., (2010), "Consideration of Embodied Energy of Building Materials in Local Construction", 4th.International Conference On Built Environment in Developing Countries (ICBEDC 2010).

Kuppusamy, S, (2007), "Thermal comfort, temperature and humidity variation according to Malaysian terrace house orientation", 41st. Australia & New Zealand of Architectural Science Associations Conference (ANZAScA 2007) on Challenges for Architectural Science in Changing Climates. Link

PhD research areas

Environmental Education & Sustainability