Dr. Mustafa Klufallah| Lecturer in Built Environment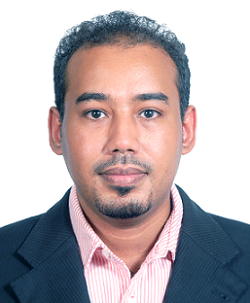 Dr. Mustafa Klufallah is a Senior Lecturer in the school of Built Environment, University of Reading-Malaysian campus. He has vast experience in construction management, completing several research projects and research funds. Dr. Mustafa obtained his Bachelor and Master degree from Universiti Sains Malaysia (USM) and a Ph.D in civil engineering from University Teknologi PETRONAS (UTP). He has served as an Assistant Lecturer for undergraduate level courses on Construction Project Management, Engineers in Society, and Concrete Technology, Civil Engineering Design at the Department of Civil Engineering, Universiti Teknologi PETRONAS, Malaysia.
Currently, he is responsible of delivering various modules including Research Skills, Construction Technology, Building Technology, Management in the Built Environment, Economic for Construction and Engineering, Principal of Management, Projects, Construction Science and Sustainability. On top of that, he is a Member of Research Ethics Committee, Students Activities Coordinator, Member of Safety and Health Committee as well as he is well versed with academic and student management especially accreditation exercises.
Apart from teaching and learning and student management, He has published technical papers in leading international journals and proceeding. Besides, he has been selected for several international journal manuscript reviewer and editorial board member, and a Member of various professional engineering boards.
Email

This email address is being protected from spambots. You need JavaScript enabled to view it.

Telephone

+60 7 2686277

Speciality areas

Construction Project Management, Building Technology, Life Cycle Analysis, Environmental Management System.

Highest qualification and awarding body

Associate Fellow of Higher Education Academy
PhD in Civil and Environmental Engineering
MSc. in Project Management
BSc. (Hons) Housing, Building and Planning (Construction Management)

UoRM programmes taught/supervised

Construction Technology, Building Technology, Research Skills, Management in the Built Environment, Economics for Construction and Engineering, Construction Science, Projects, Sustainability

Research interests

Optimization in Construction Projects
EMS-ISO14001 adaptation
EA in constructions projects

Recent publications

Khamidi, M. Faris and Klufallah, M. A., "From Rating System to Assessment Tool: Greening the Built Environment in Developing Countries like Malaysia", In: World Research & Innovation Convention on Engineering & Technology 2012, Palace of the Golden Horses, Selangor, Malaysia. 3-5 December, 2012.

Mustafa M. A. Klufallah, Khamidi Mohd Faris, Muhd Fadhil Nuruddin, "A Proposed Model of Construction Cost and Carbon Emission Best Practices in the Malaysian Construction Industry", 2013 IEEE Business Engineering and Industrial Applications Colloquium (BEIAC). IEEE Malaysia Section, IEEE Malaysia Power Electronics, Industrial Electronics & Industrial Applications Joint Chapter. BayView Hotel, Langkawi, 7– 9 April, 2013.

Mohd Faris Khamidi, Mustafa M. A. Klufallah, Muhd Fadhil Nuruddin, "Carbon Calculator Database for Building Materials in the Malaysian Construction Industry", 2013 IEEE Symposium on Humanities, Science and Engineering Research (SHUSER). IEEE Malaysia Section, IEEE PELS/IE/IA Malaysia Section Hard Rock Hotel Penang, 23–25 June, 2013.

Mustafa M. A. Klufallah, Muhd Fadhil Nuruddin, Mohd Faris Khamidi, Sami Mustafa M. E. Ahmed, Nazhatulzalkis Jamaludin, "The Trend of Carbon Emission Reduction for Building Projects in the Malaysian Construction Industry", IBCC2013-The 3rd International Building Control Conference 2013, Department of Architecture, FKA, Universiti Kebangsaan Malaysia. UiTM, USM. The Royal Chulan Hotel, Kuala Lumpur, 21th November, 2013. Scopus indexed.

Mustafa M. A. Klufallah, Khamidi Mohd Faris, Muhd Fadhil Nuruddin, "A Comparative Analysis of Carbon Emission for Housing Projects and Office Buildings in the Malaysian Construction Industry", APC2013 Annual Postgraduate Conference. Universiti Teknologi PETRONAS. 2 July, 2013.

Muhd Fadhil Nuruddin, Mustafa M. A. Klufallah, Siti Asmahani Saad, Norzaireen M. Azmee, "Sustainable Practices in Construction Industry: Resources Utilization", International Conference on Modeling and Simulation in Civil Engineering 2013. T.K.M College of Engineering, Kollam, INDIA. 12–14 December, 2013.

Mustafa M. A. Klufallah, Muhd Fadhil Nuruddin, Mohd Faris Khamidi, Nazhatulzalkis Jamaludin, "Assessment of Carbon Emission Reduction for Buildings Projects in Malaysia-A Comparative Analysis." Web of Conferences Journal. Vol. (3) pp. 2-8. 2014.

Farzaneh Moayedi, Rozana Zakariaa, Yeoh Bigahb, Mushairry Mustafara, Othman Che Puanc, Irina Safitri Zind, Mustafa M. A. Klufallah. "Conceptualising the Indicators of Walkability for Sustainable Transportation," Journal Teknologi, Vol 65(3) Pp. 85–90. 2013.

Nazhatulzalkis Jamaludin, Mohd Faris Khamidi, Suriani Ngah Abdul Wahab, Mustafa M. A. Klufallah, "Indoor Thermal Environment in Tropical Climate Residential Building", Web of Conferences Journal. Vol. (3) pp. 2-6. 2014.

Idris Othman, M Napiah, Muhd Fadhil Nuruddin, Mustafa M. A. Klufallah, "Effectiveness of Safety Management in Oil and Gas Projects", Journal of Applied Mechanics and Materials. Vol (815), pp. 429-433. 2015.

Idris Othman, M Napiah, Muhd Fadhil Nuruddin, Mustafa M. A. Klufallah Effectiveness of Human Resources Utilization in Oil and Gas Projects. Journal of Applied Mechanics and Materials. Vol (815), pp. 434-438. 2015.

Mustafa M. A. Klufallah, Muhd Fadhil Nuruddin, Idris Othman, Khamidi Mohd Faris, "Development of Embodied Carbon Emission Benchmark Model for Office Buildings in Malaysia". The 3rd International Conference on Civil, Offshore and Environmental Engineering (ICCOEE 2016, Malaysia, 15-17 Aug 2016). Book chapter.

Idris Othman, M. Napiah, Muhd Fadhil Nuruddin, Mustafa M. A. Klufallah, "Effectiveness of Preventive Safety Management in Construction", The 3rd International Conference on Civil, Offshore and Environmental Engineering (ICCOEE 2016, Malaysia, 15-17 Aug 2016). Book chapter.

Mustafa M. A. Klufallah, Idris Othman , Muhd Fadhil Nuruddin, Khamidi Mohd Faris. "Barriers to Sustainable Practices towards Low Carbon Emission Projects in Malaysia". Accepted in Journal of Engineering and Applied Sciences.

Mustafa M. A. Klufallah, Idris Othman , Muhd Fadhil Nuruddin, Khamidi Mohd Faris. "Construction Cost and Carbon Emission Computational Model for Office Buildings in Malaysia". Accepted in Journal of Engineering and Applied Sciences.

Mustafa M. A. Klufallah, M Fikri Hasmori, Ilias Said & Nur Hidayah Idris. Benchmarking Best Practices through Quality Management System among contactors in Malaysia International Conference on Industrial Engineering and Business Management (ICIEBM), 12-13 October, 2010.

Ilias Said, M Fikri Hasmori, Mustafa M. A. Klufallah, Nur Hidayah Idris, "The Truth about the Implementation of Quality Management System in the Malaysian Construction Industry", International Conference on Industrial Engineering and Business Management (ICIEBM), 12-13 October, 2010.

Mohd Saidin Misnan, Muhammad Fikiri Hasmori, Mustafa M. A. Klufallah, Ilias Said, Abdul Hakim Mohammed. The Conceptualization and Development of Safety Culture in the Construction Industry. International Conference on Industrial Engineering and Business Management (ICIEBM), 12-13 October, 2010.

Mohd Saidin Misnan, Muhammad Fikiri Hasmori, Ilias Said, Mustafa M. A. Klufallah, "The Conceptualization and Development of Safety Culture in the Construction Industry", IST Transactions of Civil Engineering and Construction Management-Theory and Applications, Vol. 1, No. 1 (2). Pp. 5-10. 2010.

Mustafa M. A. Klufallah, Mohd Faris Khamidi "Computational Model for Financial and Environmental Assessment of Purpose Built Offices towards Low Carbon Buildings in Malaysia. 2nd Malaysia University-Industry Green Building Collaboration Symposium, MU-IGBC 2018. The event will take place at Puri Pujangga, UKM on 8th May 2018.

Mustafa Klufallah, Idris Othman, Muhd fadhil Nuruddin, Mohd Faris Khamidi, "Construction Cost and Carbon Emission Computational Model for Office Buildings in Malaysia". International Journal of Engineering & Technology, Vol 7, No 3.7. 2018.

Mustafa Klufallah, Idris Othman, Muhd fadhil Nuruddin, Mohd Faris Khamidi. "Barriers to Sustainable Practices towards Low Carbon Emission Projects in Malaysia. International Journal of Engineering & Technology, Vol 7, No 3.7. 2018.

Chai Chang Saar, Mustafa Klufallah, Sivaraman Kuppusamy, Aminah Yusof and Lim Chong Shien. "BIM Integration in Augmented Reality Model" International Conference on Advanced Science, Engineering and Technology., Cyberjaya, Selangor, Malaysia. 20-21 March, 2019.

Muhammad Fikri Hasmori, Ahmad Faizul Md Zin, Sasitharan Nagapan, Rafikullah, Riduan Yunus & Mustafa Klufallah. "The On-Site Waste Minimization Practices for Construction Waste". The 2nd Global Congress on Construction, Material and Structural Engineering (GCoMSE 2019) held from 26th to 27th August 2019 at Novotel Melaka, Malaysia.