Shumetha Kaur Sidhu | Lecturer in Psychology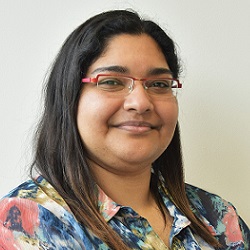 Dr Shumetha Sidhu received her PhD from the University of Nottingham in 2020. Her thesis was in the field of human visual perception, specifically investigating the mechanisms of figure-ground segregation of orientation-based texture stimuli. She uses psychophysical paradigms, computational modelling, and eye-tracking techniques in her research to explore early vision in humans.
Throughout her doctoral degree, Shumetha served as a teaching assistant at the School of Psychology. She had over three years of experience as a TA, during which she assisted in research practicals, and conducted tutorials independently. She also assisted in the supervision of undergraduate students for final year research projects and research internships.
Shumetha joined the University of Reading Malaysia in 2020.
Email

This email address is being protected from spambots. You need JavaScript enabled to view it.

Telephone

+60 7 268 6293

Speciality areas

Vision Science

Highest qualification and awarding body

PhD in Psychology, University of Nottingham

UoRM programmes taught/supervised

BSc (Hons) Psychology:
PY1BP BioPsychology
PY2PNS Perception and Neuroscience
PY2RM Research Methods and Data Analysis



Research interests

Texture perception
Second-order processing
Ageing and vision


Current projects

How do we segregate foreground objects from a background purely by textural differences?
[Collaborator: Dr David Keeble, University of Nottingham]

Assessing age-related changes in second-order texture mechanisms.
[Collaborators: Dr Harriet Allen & Dr David Keeble, University of Nottingham]