SR Dr. Noor Azeyah Dato' Khiyon |
Lecturer of Built Environment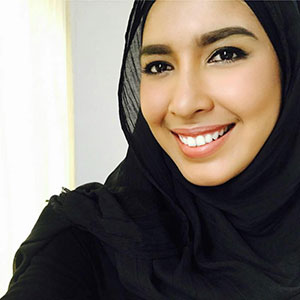 Dr. Aze is a Professional Quantity Surveyor and she holds a Doctor of Philosophy in Quantity Surveying from Universiti Teknologi Malaysia. She graduated Bachelor of Quantity Surveying (Hons) from the same institution with first class honours in 2010 and was awarded with the Best Graduating Student award by the Royal Institution of Surveyors Malaysia.
She has been in the construction industry since 2011, working as a project executive with Franky Land Sdn. Bhd. on diverse types of projects. She played important roles in each stages of both pre-contract and post-contract phases of the projects. Before joining University of Reading Malaysia, she acquired teaching and learning and academic management experience with Bond University, Australia, University of Reading Malaysia, Heriot-Watt University Malaysia and SEGi University.
She is enthusiastically participating in research in Heritage Building Information Modelling and Digital Facilities Management. She won multiple awards for her research work including the Best Paper Award for her research entitled, "Whole Life Cycle Costing for Sustainable Facilities Management" that she presented in Vancouver, Canada in 2017. She is also a member of Board of Quantity Surveyors Malaysia, Royal Institution of Surveyors Malaysia, Royal Institution of Chartered Surveyors, Malaysian Association of Facility Management and Malaysia Board of Technologists.
Email

This email address is being protected from spambots. You need JavaScript enabled to view it.

Telephone

+60 7 2686251

LinkedIn profile

Speciality areas

Heritage Building Information Modelling, Whole Life Cycle Costing, Quantification & Measurement, Digital Facilities Management

Highest qualification and awarding body

Bachelor of Quantity Surveying (Hons)

Master of Science (Construction Contract Management)

Doctor of Philosophy (Quantity Surveying)

PQS, MRISM, AFHEA

UoRM programmes taught/supervised

Projects, Information and Communication, Principles of Management, Management in the Built Environment, Digital Technology Use in Construction, Quantification for Infrastructure and Civil Engineering Works

Research interests

Heritage Building Information Modelling, Whole Life Cycle Costing, Digital Facilities Management

Recent publications

Islam, M., Mohamed, S. F., Yusof, Z. M., Mahmud, S. H., Mohamed, A., & Khiyon, N. A. (2021). A Systematic Approach to Reduce Operation and Maintenance Costs of Private Highway Projects in Malaysia. In Proceedings of the 3rd International Conference on Separation Technology (pp. 35-48). Springer, Singapore.

Igwe, U. S., Mohamed, S. F., Dzahir, M. A. M., Yusof, Z. M., & Khiyon, N. A. (2020). Towards a framework of automated resource model for post contract cost control of construction projects. International Journal of Construction Management, 1-10.

Noor, S. M., Mei, C. S., Ibrahim, I. S., Sarbini, N. N., Osman, M. H., & Khiyon, N. A. (2019). Heritage building condition assessment: a case study from Johor Bahru, Malaysia. In IOP Conference Series: Earth and Environmental Science (Vol. 220, No. 1, p. 012024). IOP Publishing.

Khiyon, N. A., & Mohamed, S. F. (2018). Barriers and Drivers of Whole Life Cycle Costing of Sustainable Facility Management for PPP/PFI Projects in Malaysia. Chemical Engineering Transactions, 63, 721-726.