Hashvini Rekha Pachappan | Lecturer of Law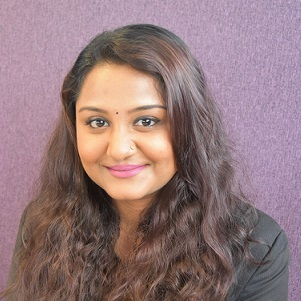 Hashvini Rekha Pachappan, a Lecturer of Law joined University of Reading Malaysia (UoRM) in November 2020. She graduated from Multimedia University (MMU), Malaysia with a LLB (Hons.) in 2015. Hashvini pursued her pupillage in a renowned banking litigation firm located in Kuala Lumpur, Malaysia and has been admitted as an Advocate & Solicitor in High Court of Malaya on 19 April 2016. While practicing as a lawyer she completed her Master of Commercial Law in University Malaya.
Hashvini joined Multimedia University (MMU), Malaysia in November 2016, her alma mater as a Lecturer in the Faculty of Law. Hashvini taught various papers viz Cyberlaw, Commercial Law and Malaysian Legal System in MMU for the LLB(Hons) course and Foundation in Law course. In UoRM, Hashvini teaches several courses namely Contract Law, Alternate Dispute Resolution and Introduction to Law. Her area of interests is mainly Cyberlaw and Commercial Law
She held several administrative roles in Faculty of Law, MMU throughout her service. This includes being appointed as the Assistant Program Coordinator for Foundation in Law Program, member of the Academic Internalisation Committee, member of the Curriculum Design Committee and heading the Public Relations department for the International Social Sciences Conference and Innovation Competition jointly organised by the Faculty of Law and Faculty of Business, MMU in the year 2018.
Hashvini is a very passionate legal educator who strongly believes that holistic education is the focal principle in academia. Hashvini is an avid reader and zealous financial consultant. She reads fictions and non-fictions for leisure. Hashvini is also a Licensed Financial Consultant under FIMM.
Email

This email address is being protected from spambots. You need JavaScript enabled to view it.

LinkedIn profile

www.linkedin.com/in/hashvini-rekha-pachappan

Telephone

+60 7 268 6273

Speciality areas

Cyberlaw
Commercial Law
Malaysian Legal System

Highest qualification and awarding body

Master of Commercial Law, University of Malaya, Malaysia

UoRM programmes taught/supervised

Contract Law
Alternative dispute resolution – Arbitration
Foundation in Law

Research interests

Internet Law
Cybersecurity
Law of Banking

Current projects

PhD in Law, University of Malaya

Recent publications

•[Journal Article] Mageswary Siva Subramaniam and Hashvini Rekha Pachappan(2019). Corroboration Rules in Malaysia: A Brief Review on the Impact of the Sexual Offences against Children Act 2017 [2019] 1 LNS(A) cxviii