Dr Tan Kok Wei | Lecturer in Psychology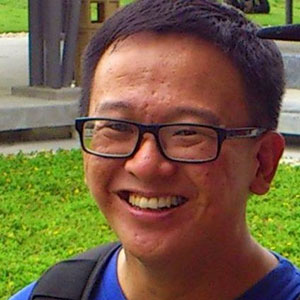 Dr. Tan Kok Wei obtained his PhD in Psychology from the University of Nottingham in 2016, where he studied the effects of skin condition, specifically its colour and texture, on health perception in Asian faces.
Kok Wei completed his master's degree in developmental psychology from the National University of Malaysia (UKM) in 2007, by which he examined the usage of private speech in young adults as a mean for problem-solving. Upon completion, he worked as a lecturer at the University Tunku Abdul Rahman (UTAR) for 4 years. He was also engaged by a community college while pursuing his PhD, teaching developmental psychology-related subjects.
Prior to joining the University of Reading Malaysia in 2016, Kok Wei worked as the course writer for the Wawasan Open University (WOU) where he designed and wrote academic modules for WOU's students, in both Experimental Psychology and History and Systems of Psychology subjects.
His research focuses on perception, judgment and decision making, specifically on the social perception of apparent health and attractiveness, and their association with psychological and physiological functioning. Along with his collaborators, he has designed and conducted several dietary interventions, examines changes in physical appearances and cognition (e.g., executive functioning, attention and memory) as induced by the supplementation of fruit and vegetable smoothie.
Email

This email address is being protected from spambots. You need JavaScript enabled to view it.

Telephone

+60 7 268 6294

Web profile

Speciality areas

Perception
Developmental Psychology
Experimental Psychology

Highest qualification and awarding body

PhD in Psychology, University of Nottingham, 2016

UoRM programmes taught/supervised

BSc (Hons) Psychology:
PY1PAB The Person and The Brain
PY2CN Cognition
PY2CP Careers in Psychology
PY3FAP Face Processing

Research interests

The impact of supplementation on cognition
Social perception, specifically on attractiveness and apparent health.

Judgment and decision making.

Creativity and divergent thinking.

Current projects

Perception of faces with facial mask - with Dr Ian Stephen (Macquarie University), Dr Wong Hoo Keat (University of Nottingham Malaysia), Dr Chrystalle Tan (Universiti Sabah Malaysia) and Dr Lee Ai-suan (Sunway University).

Impact of micronutrients (carotenoids and flavonoids) on apparent health and cognition, with Dr Ian Stephen (Macquarie University), Dr Rachel Pye, Prof Claire Williams, Dr Daniel Lamport (UoR), and Dr Rozainee Khairuddin (UKM).

The building of Asian face and body image database, with Dr Treshi Marie-Perera (Nottingham Trent University) and Dr Chung Kai Li (UoRM).

Impact of nut, fruit and vegetable supplementation on cognition and mood, with Vashnareka Kumarasuriar (UoRM), Dr Ooi Pei Boon (Sunway University) and Khor Khai Ling (Disted College Penang),

Deception and deception detection, with Dr Chung Kai Li (UoRM).

Recent publications

Tan, K. W., Welling, L. L. M., Stephen, I. D., Jones, A. L., Sulikowski, D., eds. (2020). Perceptions of People: Cues to Underlying Physiology and Psychology. Lausanne: Frontiers Media SA. doi: 10.3389/978-2-88963-748-5

Tan, K. W., & Stephen I. D. (2019) Skin colour preferences in a Malaysian Chinese population. Frontier in Psychology. 10:1352. doi: 10.3389/fpsyg.2019.01352

Tan K.W., & Stephen ID. (2018). Skin texture and colour predict perceived health in Asian faces. Evolution and Human Behavior, 39(3): 320-335

Stephen ID, Salter DLH, Tan KW, Tan CBY & Stevenson RJ. (2018) Sexual Dimorphism and Attractiveness in Asian and Caucasian Faces. Visual Cognition. DOI: 10.1080/13506285.2018.1475437 (IF 2014: 2.16)

Tan, KW, Graf, BA, Mitra, SM, & Stephen ID. (2015). Daily Consumption of a Fruit and Vegetable Smoothie Alters Facial Skin Color. PlosOne. DOI:10.1371/journal.pone.0133445

Tan, K. W., Graf, B. A., Mitra, S. M., & Stephen, I. D. (2017). Impact of fresh fruit smoothie consumption on apparent health of Asian faces. Evolution and Human Behavior, 38(4): 522-529. DOI: 10.1016/j.evolhumbehav.2017.02.004

Stephen, ID. & Tan, KW. (2015). Healthy body, healthy face? Evolutionary approaches to health perception. In: E. Sheppard & S. Haque (2015) Studies in contemporary psychology: A collection of critical essays. Bern, Switzerland: Peter Lang Publishing.

Tan, KW & Stephen, ID (2013). Colour detection thresholds in faces and colour patches. Perception, 42: 733 – 741.
This email address is being protected from spambots. You need JavaScript enabled to view it.