Ts. Dr. Ching Kuan Yong | Foundation Lecturer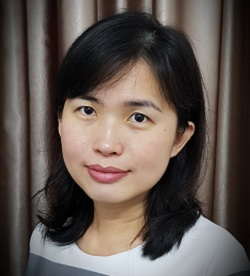 Dr. Ching Kuan Yong obtained her PhD in Engineering Sciences from the University of Southampton, UK, for her research in developing polymer scaffolds for cartilage tissue engineering. She worked as an Assistant Professor at Southern University College before taking a lectureship at UoRM in 2016. She is a Chartered Chemist of the Royal Society of Chemistry, Professional Technologist of Malaysia Board of Technologists and Fellow of the Higher Education Academy.
Kuan Yong currently holds the roles of Campus Director of Academic Tutoring and Study Advice Lead at UoRM.
Email

This email address is being protected from spambots. You need JavaScript enabled to view it.

Telephone

+60 7 2686236

LinkedIn profile

-

Speciality areas

Biomaterials, polymers

Highest qualification and awarding body

Doctor of Philosophy (Engineering Sciences), University of Southampton, UK

UoRM programmes taught/supervised

Chemistry

Medicines Discovery, Design, Development and Delivery

Academic Skills

Environment and Natural Resources in Malaysia

Research interests

Chemo-mechanical behaviour of polymers and polymer nanocomposites

Current projects

Structure and electrical breakdown properties of polypropylene-based nanocomposites (Co-Investigator, Fundamental Research Grant Scheme, Ministry of Education, Malaysia, 2019-2021)
Dielectric properties of multi-element oxide based nanocomposites (Co-Investigator, Nippon Sheet Glass Foundation for Materials Science and Engineering, Japan, 2019-2020)

Recent publications

Ching, K.Y., Andriotis, O., Sengers, B., & Stolz, M. (2021). Genipin crosslinked chitosan/PEO nanofibrous scaffolds exhibiting an improved microenvironment for the regeneration of articular cartilage. Journal of Biomaterials Applications [online first]



Rahim, N.H., Lau, K.Y., Tan, C.W., Ching, K.Y., & Vaughan, A.S. (2021). A review of engineering dielectric properties of nanocomposites through effectively removed interfacial water. IEEE Transactions on Dielectrics and Electrical Insulation, 28, 448-459.

Kamarudin, S.N., Lau, K.Y., Tan, C.W., & Ching, K.Y. (2020). The role of silicon-based nanofillers and polymer crystallization on the breakdown behaviors of polyethylene blend nanocomposites. NANO, 15, 2050097.

Ching, Y.C., Gunathilake, T.M.S.U., Chuah, C.H., Ching, K.Y., Singh, R., & Liou, N.S. (2019). Curcumin/Tween 20-incorporated cellulose nanoparticles with enhanced curcumin solubility for nano-drug delivery: Characterization and in vitro evaluation. Cellulose, 26, 5467-5481.

Gunathilake, T.M.S.U., Ching, Y.C., Chuah, C.H., Illias, H.A., Ching, K.Y., & Liou, N.S. (2018). Influence of a nonionic surfactant on curcumin delivery of nanocellulose reinforced chitosan hydrogel. International Journal of Biological Macromolecules, 118, 1055-1064.

Lau, K.Y., Zafrullah, S.N.R.M., Ismail, I.Z., & Ching, K.Y. (2018). Effects of water on breakdown characteristics of polyethylene composites. Journal of Electrostatics, 96, 119-127.

Mohd Haniffa, M.A.C., Ching, Y.C., Chuah, C.H., Ching, K.Y., Nazri, N., Abdullah, L.C., & Liou, N.S. (2017). Effect of TEMPO-oxidization and rapid cooling on thermo-structural properties of nanocellulose. Carbohydrate Polymers, 173, 91-99.

Lau, K.Y., Piah, M.A.M., & Ching, K.Y. (2017). Correlating the breakdown strength with electric field analysis for polyethylene/silica nanocomposites, Journal of Electrostatics, 86, 1-11.

Ching, K.Y., Andriotis, O.G., Li, S., Basnett, P., Su, B., Roy, I., Tare, R.S., Sengers, B.G., & Stolz, M. (2016). Nanofibrous poly(3-hydroxybutyrate)/poly(3-hydroxyoctanoate) scaffolds provide a functional microenvironment for cartilage repair. Journal of Biomaterials Application, 31, 77-91.

Ching, K.Y., Ching, Y.C., Chuah, C.H., & Liou, N.S. (2015). Effect of fiber orientation on the mechanical properties of kenaf-reinforced polymer composite. Bioresources, 10, 2597-2608.

Li, S., Glynne-Jones, P., Andriotis, O.G., Ching, K.Y., Jonnalagadda, U.S., Oreffo, R.O.C., Hill, M., & Tare, R.S. (2014). Application of an acoustofluidic perfusion bioreactor for cartilage tissue engineering. Lab on a Chip, 14, 4475-4485.

Basnett, P., Ching, K.Y., Stolz, M., Knowles, J.C., Boccaccini, A.R., Smith, C., Locke, I.C., Keshavarz, T., & Roy, I. (2013). Novel poly(3-hydroxyoctanoate)/poly(3-hydroxybutyrate) blends for medical applications. Reactive and Functional Polymers, 73, 1340-1348.

(Full list of publications is available at Google Scholar)