Dr Bruno Lot Tanko, MRICS, RQS | Head of Built Environment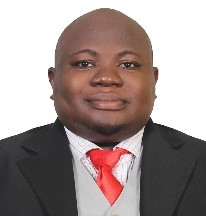 Dr. Bruno Lot Tanko has a wide range of teaching experience in quantity surveying and construction management.
He has a Ph.D. in Quantity Surveying, MSc. in Construction Management (Distinction), and a bachelor's degree in Quantity Surveying (First Class Honors). He has been involved in teaching and training in the fields of quantity surveying, cost engineering, and construction management in Nigeria and overseas since 2009.
Dr. Bruno is a Fellow, Higher Education Academy, UK (FHEA) and has won the 2021 prestigious Collaborative Teaching Award of the University of Reading, UK. He is also a Chartered Quantity Surveyor, Royal Institution of Chartered Surveyors (MRICS) UK, a member of the Nigerian Institute of Quantity Surveyors (MNIQS), and a Registered Quantity Surveyor (RQS) with the Quantity Surveyor Registration Board of Nigeria.
His scholarly articles have been listed in Web of Science, ISI and Scopus journals. He has been featured as a reviewer, editor, quest editor, and session chair for several international conferences and Q1/Q2 journals. Dr. Bruno's research is focused on Building Information Modelling, Internet of Things and Smart Buildings, Value & Cost Management, Construction Health and Safety, and Construction Management. His vision is to encourage exchange and develop young researchers.
Email

This email address is being protected from spambots. You need JavaScript enabled to view it.

Telephone

+607 268 6254

LinkedIn profile

https://www.linkedin.com/in/bruno-lot-t-98526942

Speciality areas

Building Information Modelling, Internet of Things and Smart Buildings, Value Management, Value Engineering, Construction Management, and Construction Health and Safety.

Highest qualification and awarding body

PhD (Quantity Surveying)- UniversitiTeknologi Malaysia

UoRM programmes taught/supervised

Quantification and Costing, Building Environmental Systems, Construction Site Engineering, Building Technology, Projects (Commercial/Financial Appraisal and International Projects), Economics for Construction and Engineering, Construction Technology, Principles of Management, and Dissertation.

Research interests

Building Information Modelling, Internet of Things and Smart Buildings, Contemporary Construction Technologies, Project Delivery, and Cost Management.

Current projects

Integration of Internet of Things (IoT) and Building Information Modelling (BIM) to enhance the management and operation of Smart Buildings. IoT devices can collect data on building systems such as HVAC, lighting, and security, and this data can be fed into the BIM model to improve building performance and maintenance. BIM can also be used to simulate the behavior of IoT devices, allowing for more efficient and effective building design and construction.

Recent publications

Bruno Lot Tanko, Emmanuel Essah, Mustafa Klufallah, Olakunle Elijah, and Wyom Paul Zakka (2023). Bibliometric Analysis, Scientometrics and Metasynthesis of Internet of Things in Smart Buildings. Built Environment Project and Asset Management (Accepted with corrections).

Cen-Ying Lee, Bruno Lot Tanko, and Chris Harty (2023). Chapter 8 - Social Transition Towards Creating a Sustainable and Resilient Built Environment in Rethinking Pathways to Sustainable Built Environment (Book Chapter) (Accepted).

Tanko, B.L., Zakka, W.P. and Heng, W.N. (2022). Tanko, B.L. and Mbugua, L. (2022). BIM in the Malaysian Construction Industry: A Scientometric Review and Case Study. Engineering, Construction and Architectural Management, 0969-9988, DOI 10.1108/ECAM-04-2021-0324

Cen-Ying Lee, PhD; Heap-Yih Chong, Ph.D; Bruno Lot Tanko, PhD; Mustafa Klufallah, PhD. (2022). Effect between trust in communication technology and interorganizational trust in BIM-enabled projects. Journal of Construction Engineering and Management (ASCE). 148 (8). https://ascelibrary.org/doi/pdf/10.1061/%28ASCE%29CO.1943-7862.0002299

Tanko, B.L. and Mbugua, L. (2022). BIM Education in Higher Learning Institutions: A Scientometric Review and the Malaysia Perspective. International Journal of Built Environment and Sustainability, 9(1)/2022, 23-37. https://doi.org/10.11113/ijbes.v9.n1.864 (60% Contribution)

Tanko, B.L., Cen-Ying L., Klufallah, M. and Enegbuma, W.I. (2022). The Influence of Real-Time Applications on BIM-Enabled Project Performance. 7th New Zealand Built Environment Research Symposium, 17-18, February 2022, Massey University, New Zealand, pp 143-154.

Tanko, B.L. (2022). Towards A Framework of Internet of Things (IoT) In Smart Buildings: A Bibliometric Approach. Proceedings of the PAQS Congress 2022, 12th – 13th September 2022, pp 42-56. Singapore Institute of Surveyors and Valuers, Singapore.

Enegbuma, W.I., Tanko, B.L., Bambade, J. A. … and Kori, S. (2020). Real-Time Construction Waste Reduction Using Unmanned Aerial Vehicle. https://www.igi-global.com/gateway/book/228091/, Book Chapter 25, IGI GLOBAL, 610 - 625.
DOI: 10.4018/978-1-7998-0369-0.ch025

Tanko, B.L., Ting, L.C., and Idiake, J.E. (2020). Compliance with the Use of Personal Protective Equipment (PPE) on Construction Sites in Johor, Malaysia, International Journal of Real Estate Studies, 14(1), 123-138.

Tanko, B. L., Khiyon, N.A. and Flanagan, R. (2019). Evaluation of Barriers to Value Management Application in Construction Projects In: Laryea, S. and Essah, E. (Eds) Procs West Africa Built Environment Research (WABER) Conference, 5-7 August 2019, Accra, Ghana, 551-569.

Rugu, E.A., Tanko, B.L., Buba, S.G., Markus, B. and Ojoko, E.O. (2018). Evaluation of Quality Management Drivers by Key Construction Practitioners. Journal of Advanced Research in Social and Behavioural Sciences, 11(1), 154-165.

Tanko, B.L., Abdullah, F., and Mohamad Ramly, Z. (2018). Benefits of Adopting Value Management to Mitigate the Problems in the Nigerian construction industry. Advanced Science Letters, 24(5), 3818-3822. https://doi.org/10.1166/asl.2018.11490

Tanko, B.L., Abdullah, F., Mohamad Ramly, Z. and Enegbuma, W.I. (2018). An Implementation Framework of Value Management in the Nigerian Construction Industry. Built Environment Project and Asset Management, 8(3), 305-319.
https://www.emeraldinsight.com/doi.org/10.1108/BEPAM-09-2017-0078

Tanko, B.L., Abdullah, F., Mohamad Ramly, Z. and Enegbuma, W.I. (2017). Confirmatory Factor Analysis of Value Management Current Practice in the Nigerian Construction Industry. Journal of Advanced Research in Applied Sciences and Engineering Technology, 9(1), 32-41.
http://www.akademiabaru.com/doc/ARASETV9_N1_P32_41.pdf

Buba, S.P.G. and Tanko, B.L. (2017). Project Leadership and Quality Performance of Construction Projects. International Journal of Built Environment and Sustainability, 4(2), 63-70.
http://ijbes.utm.my

Tanko, B.L., Abdullah, F., and Mohamad Ramly, Z. (2017). Stakeholders Assessment of Constraints to Project Delivery in the Nigerian Construction Industry. International Journal of Built Environment and Sustainability, 4(1), 56-62.
http://ijbes.utm.my/index.php/ijbes/article/view/160/93

Markus Bulus, Malsiah Hamid, Lim YaikWah and Tanko Bruno Lot (2017). Examination of Courtyard Dimensions and Proportions in UniversitiTeknologi Malaysia Buildings. International Journal of Real Estate Studies, 11 (2), 1-9.
http://www.utm.my/intrest/2017/05/26/vol-11-issue-2

Ejoko, E.O., Tanko, B.L., Jibrin, M., Ojoko, O. and Enegbuma, W.L. (2016). Project Delay Causes and Effects in the Construction Industry. In IGCESH. Proceedings of the 6th International Graduate Conference on Engineering, Science and Humanities,15th-17th August, 2016, p.221-223.

Tanko, B. L. and Anigbogu, N.A.(2012).The use of personal protective equipment (PPE) on construction sites in Nigeria In: Laryea, S., Agyepong, S.A., Leiringer, R. and Hughes, W. (Eds) Procs 4th West Africa Built Environment Research (WABER) Conference, 24-26 July 2012, Abuja, Nigeria, 1341-1348

PhD research areas

Building Information Modelling, Smart Buildings, Construction Management and Quantity Surveying