MISSION
Enhance international collaboration in scientific research and technological innovation.
Encourage exchange and cultivation of young researchers.
Promote technological development collaboration between researchers and industries.
Foster international academic development and international project collaborations.
ABOUT DiTIC
The DiTIC is formed to enhance the engagement between Taiwan and Malaysia. As part of the new collaboration, the Tamkang University (TKU) and University of Reading Malaysia (UoRM) is working together to build a network of construction project management and digital technology hub that committed to provide professional services in Southeast Asia.
The initiation of the DiTIC is to respond to the New Southbound Policy. The Centre is funded by the National Science Centre, supported by Presidential Office, Taiwan. The core research areas of DiTIC is focusing on BIM, AR/VR, Big Data Analytic and Smart City but not limited to the aforementioned interest. The Centre is committed to enhance the collaboration among Taiwan and Malaysia industry in talent, technological development and bilateral talent exchange.
DiTIC is established beyond the boundaries, aims to develop a Taiwan-Malaysia researchers platform for young researchers. The Centre is supported by three (3) divisions, namely research and development, academic and public relation division. Each division will be working closely to achieve the missions. The Centre will be working meticulously with Malaysia and Taiwan authorities to be established as a digital technology hub in Southeast Asia.
DiTIC governance and control methodology is strictly following UOR RES policy.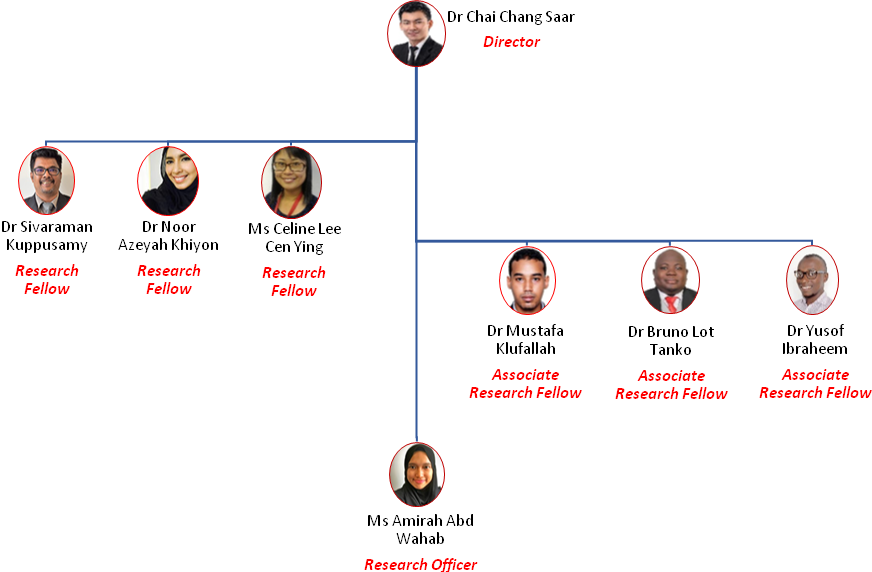 Dr Chai Chang Saar

Director

DiTIC

Email:

This email address is being protected from spambots. You need JavaScript enabled to view it.

Expertise

Digital Twining in Construction
Building Information Management
Construction Project Management

Dr Sivaraman Kuppusamy

Research Fellow

DiTIC

Email:

This email address is being protected from spambots. You need JavaScript enabled to view it.

Expertise

Biomimicry Design
Green Building
Construction Project Management
Environmental Literacy

Dr Noor Azeyah Khiyon

Research Fellow

DiTIC

Email:

This email address is being protected from spambots. You need JavaScript enabled to view it.

Expertise

Whole Life Cycle Costing
Sustainability Construction
Heritage Building Information Modelling

Ms Celine Lee Cen Ying

Research Fellow

DiTIC

Email: This email address is being protected from spambots. You need JavaScript enabled to view it.

Expertise

Construction Contract Management
Digitalisation and Sustainability in Built Environment
Construction Cost Control and Planning

Dr Mustafa Klufallah

Associate Research Fellow

DiTIC

Email:

This email address is being protected from spambots. You need JavaScript enabled to view it.

Expertise

Construction Project Management
Green and Sustainable ConstructionOptimization in Construction Projects

Dr Bruno Lot Tanko

Associate Research Fellow

DiTIC

Email:

This email address is being protected from spambots. You need JavaScript enabled to view it.

Expertise

Value Management
Construction Procurement
Project Management
Building Information Modelling

Dr Yusof Ibraheem

Associate Research Fellow

DiTIC

Email:

This email address is being protected from spambots. You need JavaScript enabled to view it.

Expertise

3D Construction
Energy Harvesting and Storage

Ms Amirah Abd Wahab

Research Officer

DiTIC

Email:

This email address is being protected from spambots. You need JavaScript enabled to view it.

Expertise

Building Information modelling
Integrated Project Delivery
Construction Project Life Cycle Management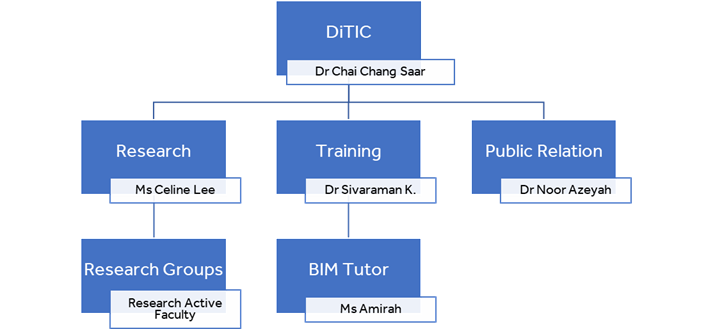 Research Division
The Research Division leads research, development, commercialization and innovation activities in DiTIC. These includes but not limited to, enhance research publications, initiate research collaboration and industry partnership. The division is supported by various research groups such as digital construction RG, Biomimicry Design RG, HBIM RG and Contract Management RG.
Training Division
Training Division is committed to provide quality training programmes to both internal and external parties with the required competencies to utilize, develop and innovate effective instruction in related subject matter. The division also assists the participants to develop and nurture their leadership talent and professional qualification within the industry.
Public Relation Division
Public Relation Division managing the flow of information between the research centre and the public. The division provides an organizational or individual (researcher) exposure to the public.
Research Group (RG)
Digital Construction
Principle Investigator : Dr Chai Chang Saar
Biomimicry Design in Construction
Principle Investigator : Dr Sivaraman Kuppusamy
Heritage BIM
Principle Investigator : Dr Noor Azeyah Khiyon
Trust Based Functioning Contracting Model
Principle Investigator : Ms Celine Lee
Training Programme
Code

Content

Discipline

Duration (days)

11000- BIM Related Training

11001

BIM Fundamental

Architecture

2

11002

Structure

2

11003

MEP

3

12001

Advance BIM

Architecture

3

12002

Structure

3

12003

MEP

3

13001

BIM Integration

LOD 300

2

13002

LOD 400

2

13003

LOD 500

3

21000- Virtual and Digital Construction

21001

Fundamental Digital Twining

VR

1

21002

AR

1

21003

3D Laser Scanning

2

21004

Point Cloud-BIM

2

21005

3D Printing

1

21006

Heritage BIM (H-BIM)

2

22001

Advance Digital Twining

VR

2

22002

AR

2

22003

3D Laser Scanning

2

22004

Point Cloud-BIM

2

22005

3D Printing

2

22006

Heritage BIM (H-BIM)

2

31000- Digital Literacy and Citizenship

31001

Change Management in Digitalization

2

31002

Digital Quotient

1

31003

Digital Intelligence

1
Consultancy
Code

Content

Discipline

C12000- BIM Related Consultancy

C12001

BIM

Architecture

C12002

Structure

C12003

MEP

C22000- Virtual and Digital Construction

C22001

Digital Twining

VR

C22002

AR

C22003

3D Laser Scanning

C22004

Point Cloud-BIM

C22005

3D Printing

C22006

Heritage BIM (H-BIM)
The consultancy practice will be following UOR RES policy.
International Outreach Programme
Location : Taiwan
Date : 18th February 2019- 22nd February 2019
The International Outreach Programme- Taiwan focus on the construction development especially in automation, Building Information Modelling (BIM), digital twining and construction economics and the role of each stakeholders in promoting digital construction. Taiwan is known as a smart sustainable human-centric city, which is intended to enhance digital infrastructure, re-construct a service-based digital government, and realize a fair and active internet society with equal digital rights. In addition, innovative cross-boundary digital applications can be initialized with solid digital infrastructures, not only to further drive industry to adopt digital development, but also to promote the smart city concept and bridge the digital divide in rural areas.
What can be learned from this IOP is the digital nation framework and construction Industry Revolution 4.0. The IOP study tour consist of 9 visits to, university, developer firms, New Southbound Policy office, Criminal Investigation Bureau and cultural sites. These provide the students with an opportunity to collaborate with lecturers/researchers, and integrate new perspectives with informal environments to enhance learning initiatives. Among the IOP benefits, skill development is the most important. In order to meet IOP objectives, students need to apply skills, values and general knowledge in new settings. The objectives for IOP-Taiwan are as follow:
Objectives
to acquire first-hand knowledge on digital construction and building automation in Taiwan.
to enhance industry collaboration with Taiwan practitioners.
to improve UoRM and DiTIC visibility in New Southbound Policy coverage region.
to explore 3D laser scanning ability in forensic discipline.
Key Visits
a) Tamkang University
Tamkang University enjoys widespread recognition as Taiwan's oldest private institution of higher learning and one of its most distinguished. It ranks 9th on comprehensive measures by Taiwan's Ministry of Education and in the top 50 universities in Asia. Tamkang University has 11 faculties comprising 47 departments, 50 master's programs, and 17 doctoral programs.
As a strategic research partner for University of Reading Malaysia, a research centre (DiTIC) was established to enhance engagement between Taiwan and Malaysia. As part of the collaboration, both universities are working together to build a hub for construction project management and digital technology that is committed to providing professional services in Southeast Asia.
The IOP tour will visit the Built Environment and Civil Engineering departments. A research sharing session and students' knowledge transfer activities are expected to be conducted at Tamkang University main campus.
b) Industry Visit (Debao Group)
Debao Group is a Taiwan local multi construction disciplines company. The company consists of several divisions including real estate, project development (developer), construction, Civil and Structural consultancy, Mechanical and Electrical consultancy and digital innovation.
From the benefits of DiTIC establishment, UoRM sent 8 QS students to Taiwan Debao Group for their internship, practicing in project development and digital innovation divisions. The upcoming IOP tour is important to gain client's feedback in UoRM students' performance and at the same enhance the industry collaboration with Taiwan practitioners.
c) New Southbound Policy Office
The New Southbound Policy is the initiative of the Government of Taiwan to enhance cooperation and exchanges between Taiwan and 18 countries in Southeast Asia, South Asia and Australasia. 6 academic research centres established under New Southbound Policy as shown in Table 1.
Table 1. Research Centres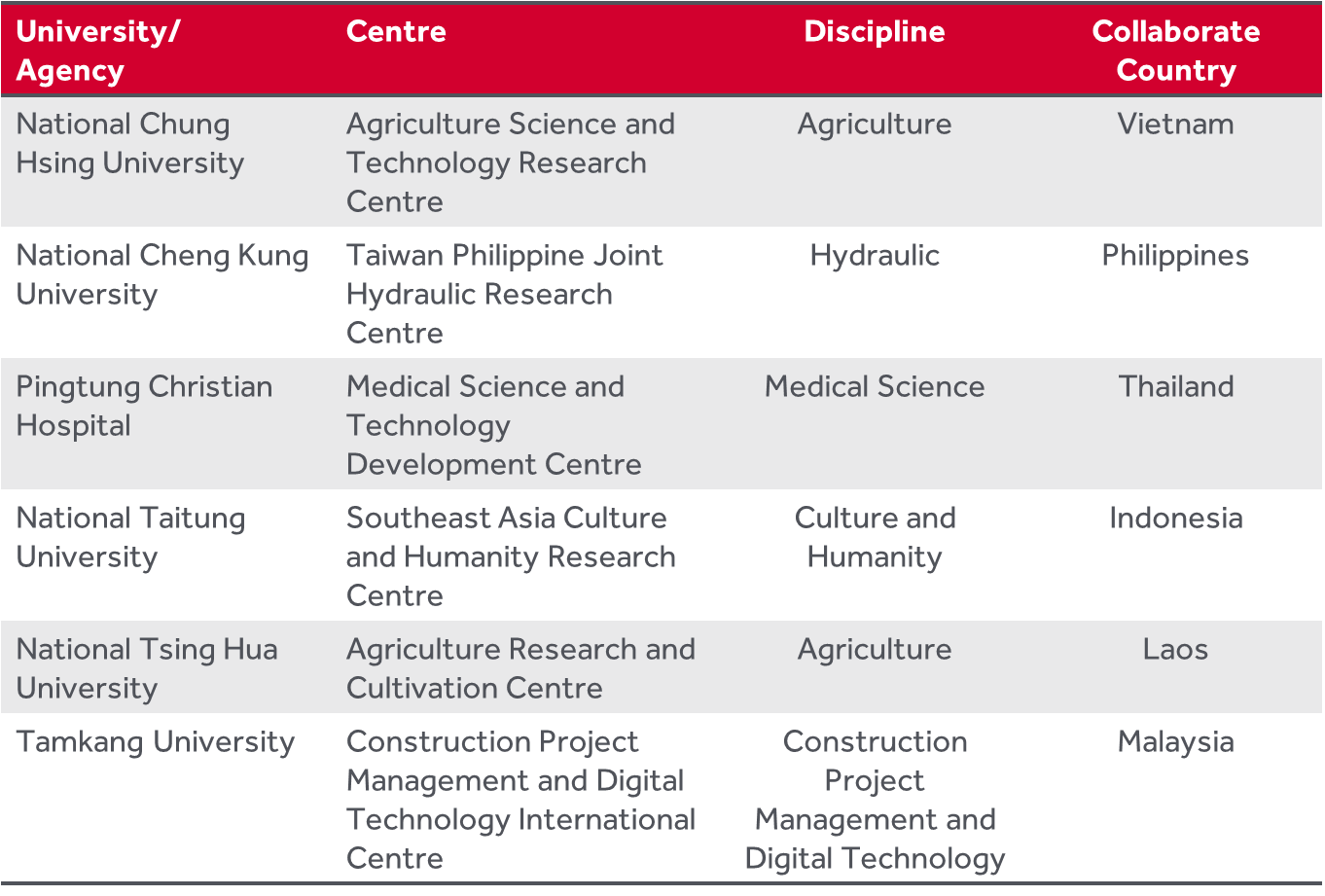 The main purpose to visit New Southbound Policy Office is to extend the Taiwan-Malaysia collaboration to other research centres in Vietnam, Philippines, Thailand, Indonesia and Laos. Currently, the 6 research centres are communicating among each other, transferring experts to enhance respective research collaboration. This is important for UoRM to be visible in Southeast Asia region to build research led teaching reputation.
d) Criminal Investigation Bureau
The Criminal Investigation Bureau Taiwan is the agency of National Police Agency under Ministry of Interior. We are invited by the Chief Commander Ms Tracy Liu to visit forensic investigation department. The purpose of the visit is to explore the 3D laser scanning functions and importance in forensic investigation. We are expected to explore different workflow in using 3D laser scanner.
Tentative Programme
Day

Date

Time

1

18/2/2019

0800

1400-1700

UoRM-SIN-TPE

Cultural Visit

2

19/2/2019

0900-1200

1400-1700

Visit Tamkang University

Cultural Visit

3

20/2/2019

0900-1200

1400-1700

Industry Visit

Cultural Visit

4

21/2/2019

0900-1200

1400-1700

Visit New Soutbound Policy Office

Visit Criminal Investigation Bureau

5

22/2/2019

0900-1000

Memorial Hall Parade

TPE-SIN-UoRM
Cultural visit :

- Tamsui old street

- National Palace Museum

- ShiLin Night Market

- YangMing Shan National Park

- Zhong Zheng Memorial Hall