Henley Business School Malaysia has awarded 11 participants who have completed the first round of its free business skills workshops for unemployed or underprivileged young adults.
The workshops, held once a month from January this year, were delivered pro bono by members of Henley Business School's Centre for Global Business Enterprise and Cloud Analytics, at its campus in EduCity in Iskandar Puteri, Johor, which is part of the University of Reading Malaysia.
During the workshops, participants were taught a series of modules based on real-life business activities and case studies, which covered topics such as organisational context, people and organisation, strategy, financial literacy, marketing and communication.
The Head of Henley Business School Malaysia and Director of the Centre for Global Business Enterprise and Cloud Analytics, Professor Teck Yong Eng, says the initiative was a method of giving back to the community by reaching out to young people – in particular high school dropouts – without any formal business education, a chance to develop new business skills and learn how to plan a successful career. "We gave our students the opportunity to apply, challenge and adapt business concepts for real-world situations. The knowledge they've gained will help them understand and apply different business skills to enhance their decision making." says Professor Eng.
One participant, Noor Ain Binti Musa, who helps to run a family-owned food and beverage company in Johor Bahru, says she joined the workshops to enhance her knowledge, in the hope it can help her to run the business sustainably. "My mother wants to increase more sales on her products, so I'm helping her by trying to gain any knowledge I can get to expand the company."
Despite the English language being a challenge for Noor Ain, the workshops have not disappointed. "I've learned about social skills and different financial perspectives. With our past failures, I hope the knowledge I've gained in the workshops can help us to endure any obstacles ahead," she adds.
Like the other participants, Wong Soon Yong, missed out on a tertiary education and enrolled in the workshops to gain new business skills which he hopes to utilise in the future. Wong, who is an aspiring manager from Sarikei, Sarawak, says he was very satisfied with the content of the workshops and the teaching facilities. "Some of the key things I learned about were managing people and financial literacy," he says.
For Johor Bahru native, Lee Chen Yi, gaining new leadership and problem solving skills has been one of the highlights. "I joined the workshops to gain more knowledge that I can apply to my work. It exceeded my expectations." Lee adds that the workshops have helped participants to develop a lifelong habit for learning.
Professor Eng says the success of the business skills workshops has given the team confidence to run a second round of the same workshops next year. "We managed to retain all participants from the first workshop until the end and they completed all six sessions. We also received positive feedback from our participants in terms of how much they benefited from the workshop. While all the participants did not have formal business education or training, we were surprised by their enthusiasm to start their own business." He adds that the next round of workshops will incorporate more digital technology tools and digital oriented concepts in business.
For further information and how to apply for the free Business Skills Workshops starting in January 2019, contact Jerome Jayamana at This email address is being protected from spambots. You need JavaScript enabled to view it..
Ends.
Business Skills Workshop participants brainstorming.
Prof Teck Yong Eng launched the Business Skills Workshops to benefit underprivileged young adults.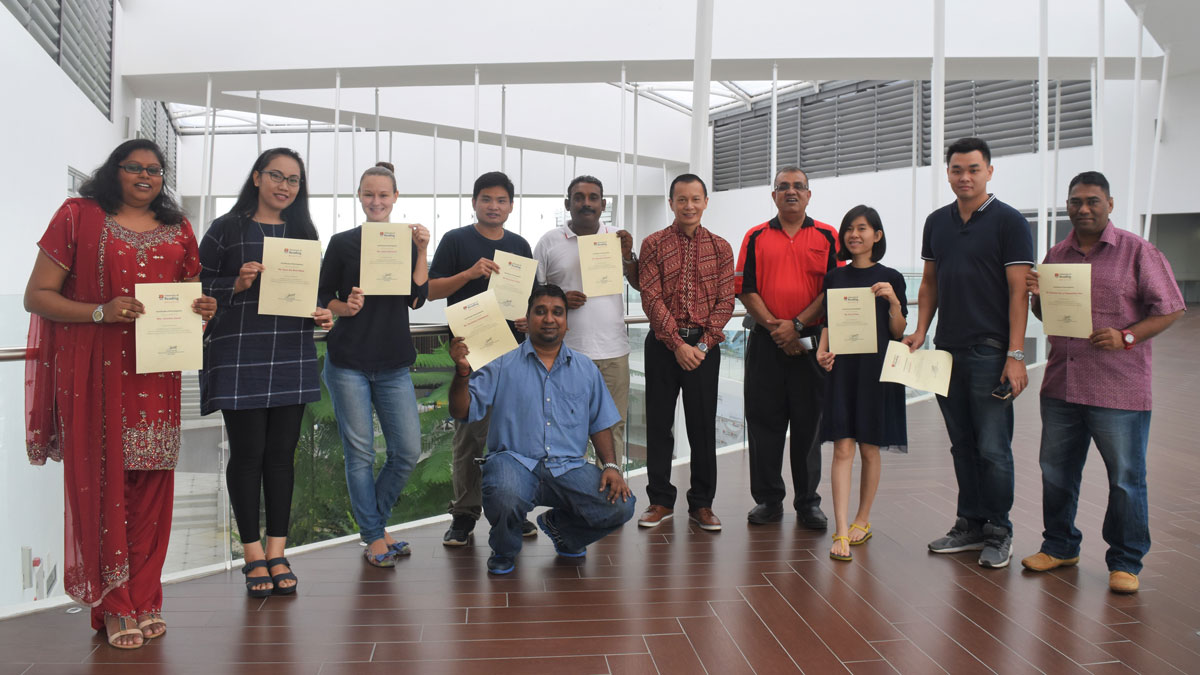 Business Skill Workshop participants.
About the Centre for Global Business Enterprise and Cloud Analytics
The Centre for Global Business Enterprise and Cloud Analytics was launched by Henley Business School Malaysia in 2017 with the aim of simplifying the ways big data is used, understood and analysed to solve business problems. The Centre comprises a group of independent and non-partisan researchers who share an interest in solving non-trivial problems particularly those pertaining to big data in global contexts.
For more information on the Centre for Global Business Enterprise and Cloud Analytics, visit www.reading.edu.my/about-us/henley-business-school/centre-for-global-business-enterprise-and-cloud-analytics  
About Henley Business School
Founded in 1945, Henley was the first business school to be established in the UK and is one of the oldest and most respected schools in Europe. Henley Business School is among an elite group of business schools and is one of only a few in Asia to be triple-accredited in the UK, US and Europe, by the Association of MBAs (AMBA), EMFD Quality Improvement System (EQUIS) and the Association to Advance Collegiate Schools of Business (AACSB), for the quality and capability of its faculty and output.
As part of the University of Reading, Henley Business School operates within an academic institution that is placed within the top 200 universities globally, according to QS World University Rankings 2018. For more information on Henley Business School, visit www.reading.edu.my/about-us/henley-business-school
For media enquiries contact Beverley Tse at This email address is being protected from spambots. You need JavaScript enabled to view it. or Fahmy Fahd at This email address is being protected from spambots. You need JavaScript enabled to view it..