The University of Reading Malaysia (UoRM) has today signed a Memorandum of Understanding with IBFIM (Islamic Banking and Finance Institute Malaysia) to collaborate in the delivery of training courses on Islamic Finance.
The MOU was signed by UoRM Provost and Chief Executive Officer, Professor Tony Downes and IBFIM Chief Executive Officer, Yusry Yusoff during a ceremony held at the UoRM campus in EduCity, Iskandar Puteri, Johor.
Under the three year agreement, the parties will work together in developing and offering training programmes to produce Islamic finance graduates who are accustomed to developments in the Islamic financial services industry and are equipped with strong foundations and good basic skill sets needed in the Islamic finance sector, as well as the ability to meet current industry needs and trends.
In addition, UoRM will embed or integrate IBFIM's qualification syllabus into its Islamic finance modules, with the aim of preparing students for a challenging career as Islamic finance practitioners. The two will also jointly develop new education and outreach programmes and collaborate in enhancing teaching and learning opportunities for UoRM students, particularly in the area of Islamic finance.
Professor Tony Downes said the MOU is a strong step forward in improving the delivery of education on Islamic finance in Malaysia. "We wish to thank IBFIM for partnering with us to equip our students better in their knowledge and application of Islamic finance practices. We are confident that together, we can develop excellent graduates who can make a significant contribution to the sector."
Ends.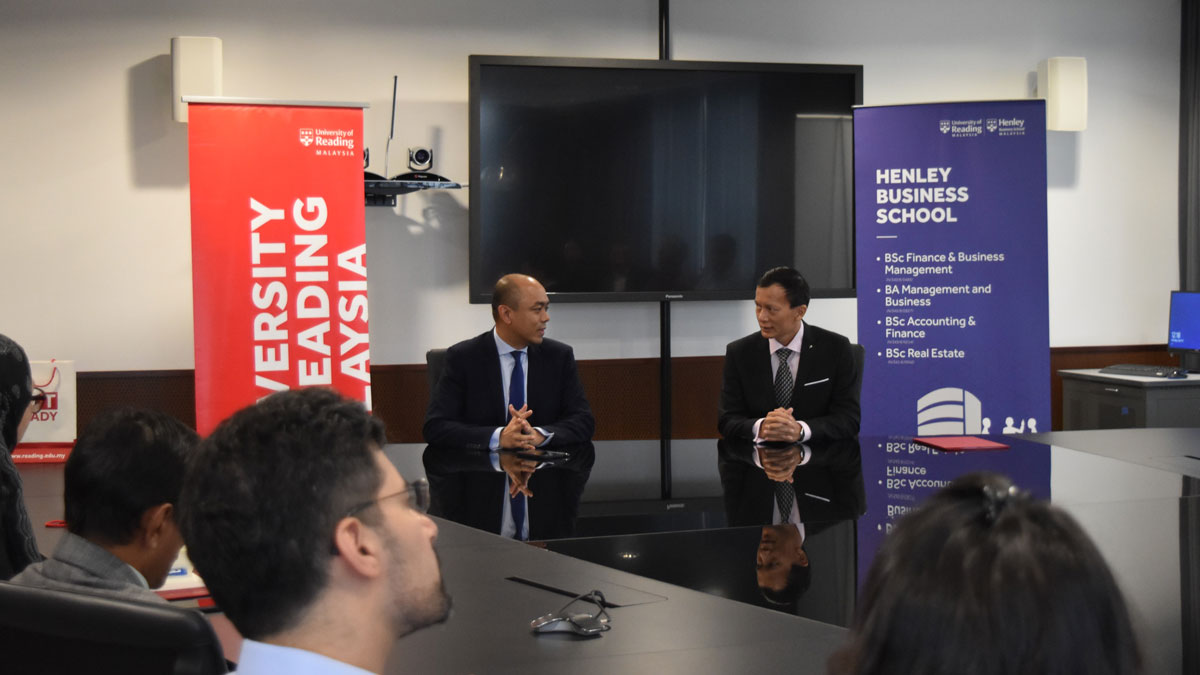 IBFIM CEO Yusry Yusoff (L) and Head of Henley Business School Malaysia Professor Teck Eng (R)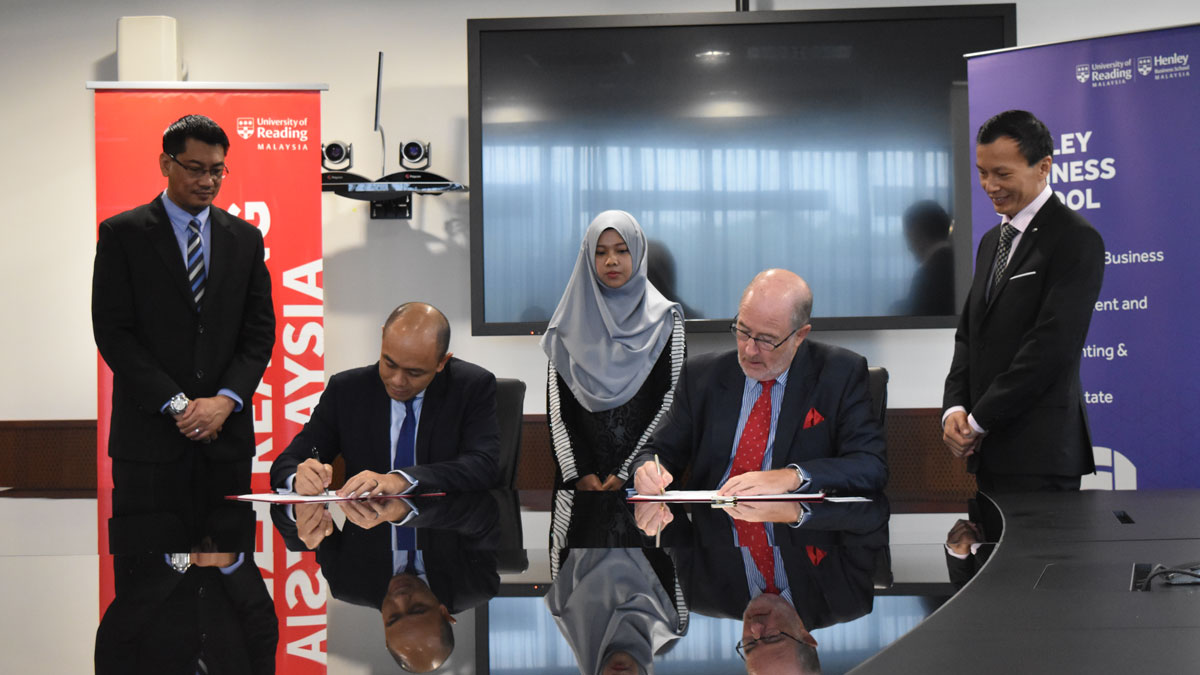 IBFM CEO Yufry Yusoff (L) and UoRM Provost and CEO Professor Tony Downes (R) sign MOU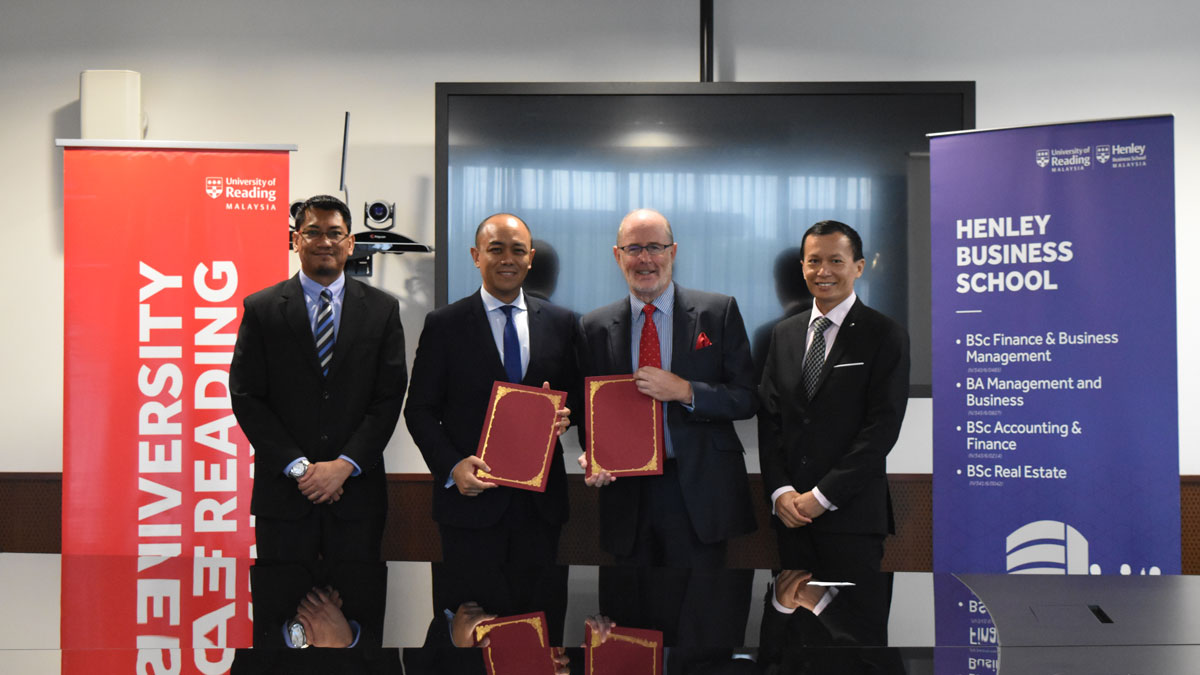 UoRM Signs MOU with IBFIM
About IBFIM
IBFIM is a premium lifelong learning institution which specialises in industry technical certifications. The certifications are designed to ensure attainment of technical proficiency levels to fulfil needs and support professionalisation of the industry. IBFIM programmes are accorded Full Accreditation by the Finance Accreditation Agency to ensure quality and provide progressive development route for the certificates. Learning modules offered are customisable to fulfil the specific needs of the clients within the Islamic financial institutions specifically as well as other sectors.
For more information, please call Natejah at +603 2031 101, Ext 642, or email at This email address is being protected from spambots. You need JavaScript enabled to view it..
About the University of Reading Malaysia
The University of Reading Malaysia (UoRM) is the first overseas campus of the University of Reading in the UK and is based in EduCity, Iskandar Puteri, Johor. Ranked in the top 200 of universities worldwide according to QS World University Rankings 2018, the University has a long-established international reputation for the quality of its teaching and research.
Together with Henley Business School, which is part of the University, UoRM offers a UK quality education for students at foundation, undergraduate, postgraduate and doctoral level in a range of subjects including accounting, business, construction, finance, investment banking and Islamic finance, pharmacy, property, psychology, surveying, and the prestigious Henley MBA.
For more information on the University of Reading Malaysia, visit www.reading.edu.my 
For media enquiries, contact Beverley Tse: This email address is being protected from spambots. You need JavaScript enabled to view it.