The University of Reading Malaysia (UoRM) has today signed a Memorandum of Understanding with Sutera Mall – a shopping complex in Johor Bahru, paving the way to further strengthen the relevance of academic and research collaborations for industrial practice, and to allow UoRM real estate students the opportunity to have hands-on experience in real estate business.
The MOU, which is a collaboration between Tanah Sutera Development Sdn Bhd – a prominent developer in Johor Bahru jointly owned by Singapore's Keppel Land, Lee Rubber Co. and Malaysia's Armed Forces Fund Board – and the Centre for Global Business Enterprise and Cloud Analytics at Henley Business School Malaysia, was signed by UoRM Provost and Chief Executive Officer Professor Tony Downes and Tanah Sutera Development Sdn Bhd (owner of Sutera Mall) General Manager Steven Shum, during a ceremony held the UoRM campus in EduCity, Iskandar Puteri, Johor.
Under the agreement, Sutera Mall will allow UoRM to adopt it as the "teaching mall" for its students undertaking the BSc Real Estate programme (akin to the concept of a teaching hospital to medical students). The mall will also provide advice on graduate employment opportunities for Henley Business School students and offer students the opportunity to work as an intern or undertake an industrial placement at the mall. In addition, Sutera Mall has committed to providing a financial scholarship to award a student who tops a university essay or an assignment based on Sutera Mall's project brief. 
At the signing, Steven Shum said: "Being a community builder developer, it has always been our aspiration to create value in all things we do. The collaboration with UoRM – the number one real estate education provider in the UK – will provide us an opportunity to enhance the students' learning experience.  We hope this CSR project of ours will benefit the community too, through the knowledge sharing by the Centre for Global Business Enterprise and Cloud Analytics at UoRM."
As part of its community outreach initiatives, UoRM will deliver public lectures at Sutera Mall, through its Centre for Global Business Enterprise and Cloud Analytics (The Centre). The Centre will, if needed, will also provide support to Sutera Mall in its community project on urban farming, in particular, smart farming on idle land. In addition, through the mall's commitment to corporate social responsibility and The Centre's pro-bono initiatives, both parties will embark on a local entrepreneurship programme to benefit Johor residents.
The Centre has also committed to undertaking research projects for Sutera Mall, with the objective of enhancing the customer retail experience, driving innovation in retailing, and identifying threats of digitisation on brick-and-mortar malls. It will also provide advice to the mall on its business plan and marketing plan developments.
Professor Tony Downes said: "In preparing our real estate students to be qualified chartered surveyors, they are not only taught relevant real estate and business theory but we provide them with a platform for experiential learning. We are grateful to Sutera Mall for partnering with us to give our students the opportunity to apply what they have learnt in the classroom and to gain valuable insight into the real estate business."
"We hope through the Centre for Global Business Enterprise and Cloud Analytics that we can provide practical advice to advance the mall and make a significant contribution to its community initiatives."
Ends.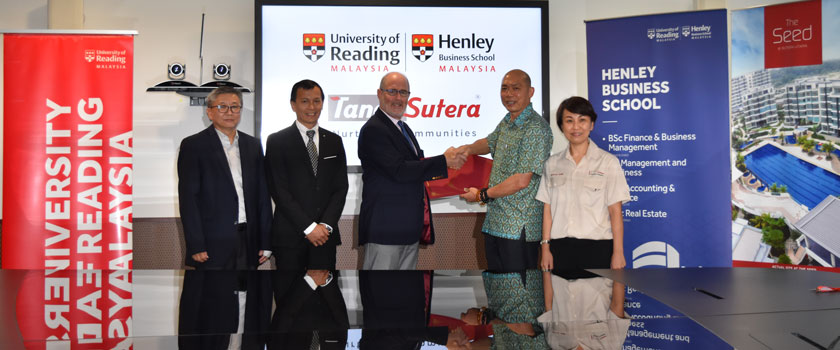 About Sutera Mall
With three retail floors spread over 1,200,000 square feet, Sutera Mall comprises of 500 retail outlets with a vibrant tenant mix, offering diverse products for family shopping that caters to shoppers of all ages. Shoppers are given the opportunity to indulge in fine dining and shopping, and spend care-free time in leisure activities.
Sutera Mall has steadily continued its climb as a prominent shopping landmark in Johor Bahru. Shoppers' traffic has increased year on year. The creation of the right ambience for the different cultural festivals in Malaysia have helped Sutera Mall to set itself apart from other shopping malls in the city.
About the University of Reading Malaysia
The University of Reading Malaysia (UoRM) is the first overseas campus of the University of Reading in the UK and is based in EduCity, Iskandar Puteri, Johor. Ranked in the top 200 of universities worldwide according to QS World University Rankings 2018, the University has a long-established international reputation for the quality of its teaching and research.
Together with Henley Business School, which is part of the University, UoRM offers a UK quality education for students at foundation, undergraduate, postgraduate and doctoral level in a range of subjects including real estate, accounting, business, construction, finance, investment banking and Islamic finance, pharmacy, psychology, surveying, and the prestigious Henley MBA.
For more information on the University of Reading Malaysia, visit www.reading.edu.my 
For media enquiries, contact Beverley Tse: This email address is being protected from spambots. You need JavaScript enabled to view it.