Medini City, Iskandar Puteri, Johor, 2 February 2018 - Medini Iskandar Malaysia Sdn Bhd (MIM) today signed a Memorandum of Understanding (MoU) with the University of Reading Malaysia (UoRM) and Raffles University Iskandar (RUI) formalising cooperation between MIM and the two prestigious universities in enhancing the talent pool and to prepare the graduates for employment. The signing took place at Medini 6 in Medini City, Iskandar Puteri.
Dr James Tee, the Managing Director / Chief Executive Officer represented MIM to sign the MoU with UoRM and RUI. UoRM was represented by the Interim Vice Provost, Dr Samantha Weston while the President, Professor Dr Graeme Britton represented RUI.
First intake at MIM will be in May 2018 whereby MIM will recruit undergraduates from each university for internship programmes at MIM, particularly in the fields of design, accounts, business and quantity survey. These programmes will run for a period of three to six months.
MIM is the master planner and master developer of the 2,230-acre Medini City, a smart and sustainable Central Business District (CBD) of Iskandar Puteri. Being a thriving CBD, Medini City has a lot to offer to young graduates who are eager to be part of this exciting journey in making Medini City a vibrant international city in this region.
Dr James Tee, Managing Director/Chief Executive Officer of Medini Iskandar Malaysia said, "It is our vision to make Medini City a healthy, smart, sustainable and liveable city. We are upholding Medini City as the benchmark for young talents to learn the ropes of developing a city. Our collaboration with various universities will facilitate this learning process, whereby we will closely involve the universities, talents and the industry to produce a quality and skilful workforce that will elevate Medini City and Iskandar Puteri to greater heights!"
Dr Samantha Weston, Interim Vice Provost, University of Reading Malaysia said, "It is a pleasure to be partnering with Medini and we are grateful for their support and commitment to boosting the applied learning opportunities of our students. Medini Iskandar Malaysia has been instrumental in developing a smart, integrated city and we are thrilled to be working together in shaping an environment that is beneficial for all."
Professor Dr Graeme Britton, President of Raffles University Iskandar said, "RUI develops students so they graduate as young professionals. Students undertake projects and internships in industry to gain the requisite experience. I am delighted to sign this MoU with MIM today to ensure an industry ready workforce for tomorrow."
Dr James concluded, "We are honoured to work together with University of Reading Malaysia and Raffles University Iskandar as they are both prestigious and world-renowned universities. We are delighted to be able to contribute towards the universities' strategic plans in nurturing talents for the industry."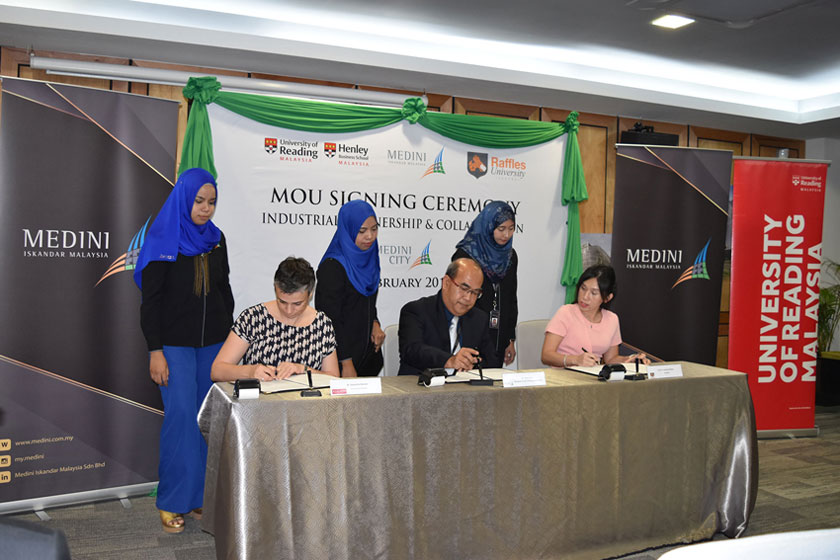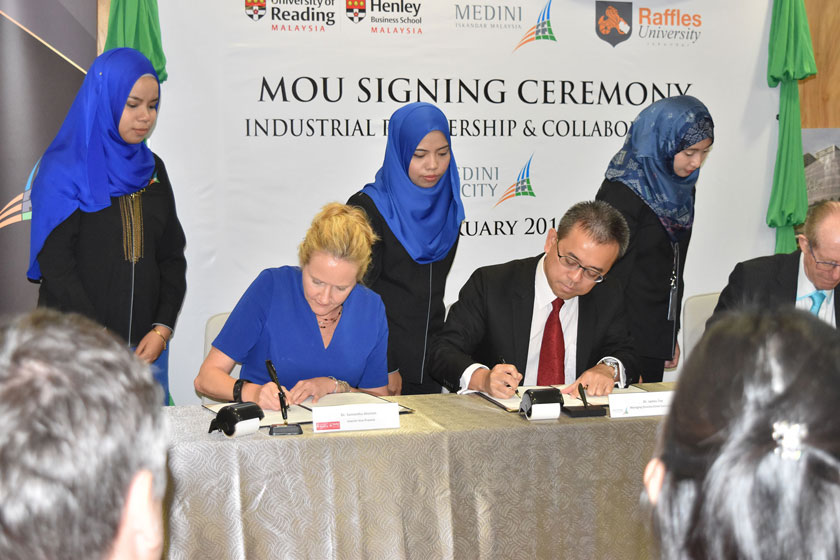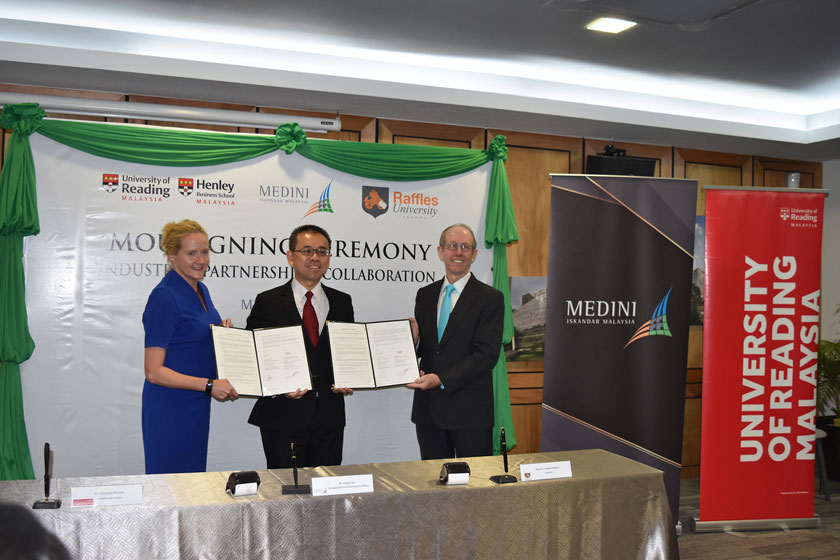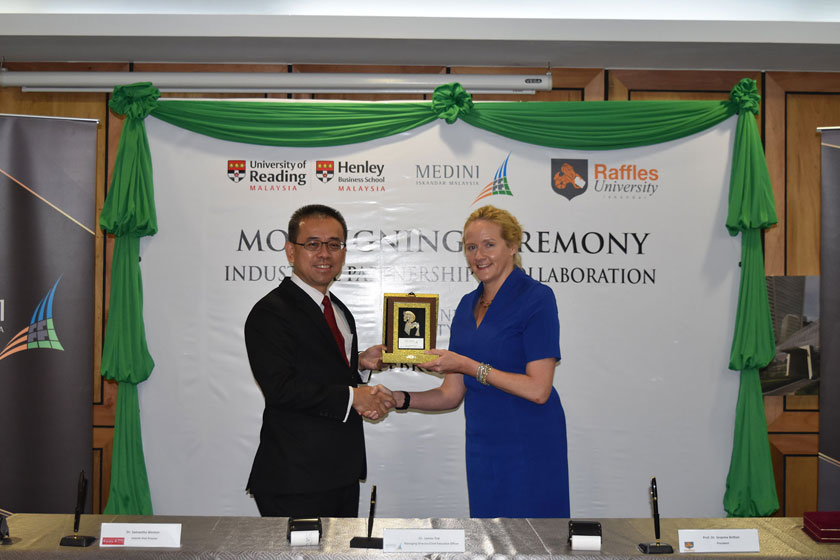 About Medini Iskandar Malaysia Sdn Bhd
Medini Iskandar Malaysia Sdn Bhd ("MIM") is the master planner and master developer of the 2,230-acre urban township Medini, located in the heart of Iskandar Puteri. A Central Business District of Iskandar Puteri, Medini City offers incentives uniquely available to Medini. MIM welcomes investors who are seeking investment opportunities in a prime destination strategically located near Singapore.
Established in 2007, MIM is owned by Jasmine Acres Sdn Bhd (60%), United World Infrastructure (20%) and Mitsui & Co. Ltd (20%). MIM's largest shareholder, Jasmine Acres, is jointly owned by Khazanah Nasional Berhad and Iskandar Investment Berhad.
For more information, visit us at http://www.medini.com.my/
For media inquiries, contact:
Haniza Abdul Hamid: This email address is being protected from spambots. You need JavaScript enabled to view it. / 019-7715 357 or
Izzayati Husna Ahmad This email address is being protected from spambots. You need JavaScript enabled to view it. / 019-7176 270
About Raffles University Iskandar
Raffles University Iskandar is a Malaysian-based international university that prides itself as a practice-oriented institution that grooms competent and industry-ready graduates with intensive curricular and practical, handson experiences.
Raffles University Iskandar (RUI) is a joint venture between the Malaysian Government (through Educity Iskandar Malaysia Sdn. Bhd.) and Raffles Education Corporation (REC), a multi-national, educational company.
Our University is at the cutting edge of higher education in teaching, learning and business practices. Our innovative and stimulating programmes promote doing while learning and learning while doing. Programmes offered to students include Bachelor's Degrees in Psychology, Accountancy, Business Administration, Supply Chain Management, Fashion Design, Interior Design, Graphic Design, and Multimedia Design. There are also foundation courses in Business and Liberal Arts, diploma programmes in Business Studies, Interior Design and Visual Communication, and a Master's degree in Business Administration.
For more information, visit us at http://www.raffles-university.edu.my
For media inquiries, contact Sue Sukumaran: This email address is being protected from spambots. You need JavaScript enabled to view it. / 07-2778 868