The University of Reading Malaysia and AEON CO. (M) BHD. have signed a Memorandum of Understanding to work together in advancing the education of pharmacy students and enhancing the knowledge of pharmacists in the industry.
The MOU was signed by the UoRM Provost, Professor Tony Downes and AEON's Pharmacist Manager, Ms Elisha Teh during a ceremony held at the University of Reading Malaysia (UoRM) campus in EduCity, Iskandar Puteri, Johor. The event was witnessed by other representatives of AEON and academics from the Reading School of Pharmacy Malaysia.
Under the partnership, AEON will provide opportunities to spend time in their premises to first and second year students undertaking the MPharm 2+2 programme at UoRM, with the supervision and guidance of registered pharmacists of AEON Wellness. The University has agreed to deliver an annual lecture, seminar or training session on public health science to benefit pharmacists and nutritionists employed by AEON Wellness.
Dr Samantha Weston, Head of Pharmacy at UoRM said: "We are delighted to be partnering with AEON to boost the practical experience of our pharmacy students and support the life-long learning and development of pharmacists in the field. We choose to work with AEON Wellness due to their continued efforts to professionalise the pharmacy industry in Malaysia, and wish to support them in every way we can. We are grateful to the team at AEON for their commitment to provide our students with placements which we believe will be instrumental in equipping our students for the workforce.
"Our team from the Reading School of Pharmacy Malaysia is also pleased to be able to engage with pharmacists of AEON Wellness and play a part in furthering their education."
Both parties are aiming for the first group of pharmacy students to begin internships with AEON during the semester break in June next year. Ends.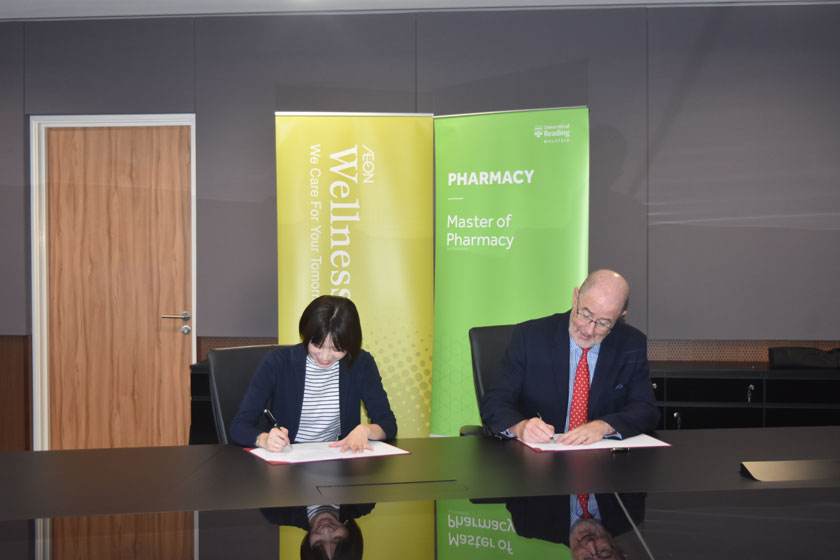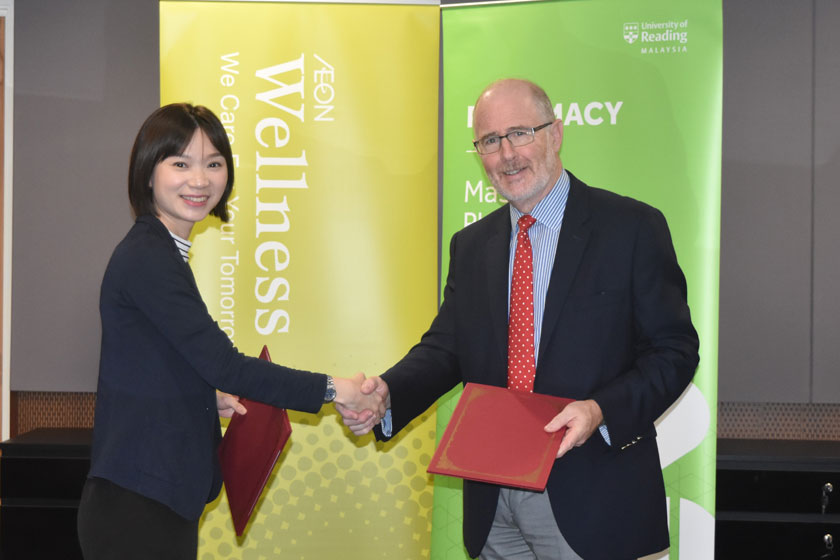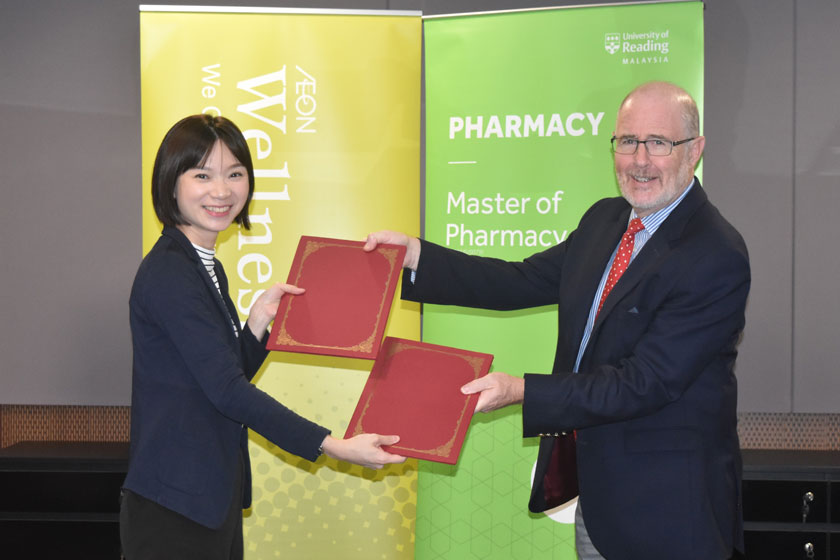 About the University of Reading MalaysiaThe University of Reading Malaysia (UoRM) is the first overseas campus of the University of Reading in the UK and is based in EduCity, Iskandar Puteri, Johor. Ranked in the top 200 of universities worldwide according to QS World University Rankings 2018, the University has a long-established international reputation for the quality of its teaching and research.
Together with Henley Business School, which is part of the University, UoRM offers a UK quality education for students at Foundation, Undergraduate, Postgraduate and Doctoral level in a range of subjects including business, accounting, finance, property, construction, psychology and pharmacy, investment banking and Islamic finance and the prestigious Henley MBA.
For information on the MPharm 2+2 degree, visit http://www2.reading.edu.my/for-future-students/courses-programmes/undergraduate-programmes/mpharm-2-2-a-4-year-undergraduate-pharmacy-degree.
For more information on UoRM visit http://www2.reading.edu.my
For more information on our research, including our research projects, PhD opportunities and our series of research events and seminars, visit http://www2.reading.edu.my/ourresearch
For media enquiries, contact Beverley Tse: This email address is being protected from spambots. You need JavaScript enabled to view it.
About AEON Wellness
A subsidiary company of the AEON Group and an integral part of AEON CO. (M) BHD., AEON Wellness is the go-to destination for all things health and beauty. First established in 2006 and debuted at Mid Valley Megamall, AEON Wellness has since expanded to over 50 outlets across Malaysia and evolved into an all-inclusive pharmacy offering an extensive selection of products and professional consultation services.
At AEON Wellness, a dedicated team of in-store pharmacists and beauty advisors are on hand to cater to its customers' growing awareness towards the importance of beauty and health. Standing by an unchanging principle of "customers first"—like all other companies under the AEON Group—ensuring customer satisfaction is their priority.
For more information, please visit www.aeonretail.com.my/wellness/.