The University of Reading Malaysia has today signed a Memorandum of Understanding (MOU) with Tamkang University, a private tertiary institution from Taiwan, paving the way for collaboration in scientific research and innovation in the area of construction and digital technology.
The MOU was signed by the University of Reading Malaysia's Provost and CEO, Professor Tony Downes and the Director of the Taiwan-Malaysia Construction Project Management and Digital Technology International Centre (DiTIC) from Tamkang University, Associate Professor Dr Fan Su-Ling, during a ceremony held at the University of Reading Malaysia (UoRM) campus in EduCity, Iskandar Puteri, Johor. The event was witnessed by members of UoRM's School of the Built Environment and staff and students from Tamkang University, who are on a two-day tour of EduCity.
The MOU signing also marks the official launch of DiTIC – a hub designed for the parties to work together on technological developments, research projects, information and talent exchanges, and to provide professional services in Southeast Asia.
The Director of DiTIC from UoRM, Dr Chai Chang Saar said, "We are excited to have officially established a working partnership with Tamkang University. Tamkang has an excellent reputation in automation and together with our expertise in digital construction from the University of Reading Malaysia's School of the Built Environment, we are confident we can achieve positive results in scientific research and advancements in construction and digital technology."
The Director of DiTIC from Tamkang University, Dr Fan Su-Ling said, "We hope to foster a culture of collaboration between universities and universities and industry between Taiwan and Malaysia. We truly welcome all forms of collaborations including but not limited to exchange programs, forums, online courses or in-class courses, and research projects. Let's work together to achieve a better future for Taiwan and Malaysia."
The establishment of DiTIC is in response to the New Southbound Policy – an initiative of the Government of Taiwan to boost cooperation and exchanges between Taiwan and 18 countries in Southeast Asia, South Asia and Australasia.
DiTIC is funded by the Ministry of Technology and Science of Taiwan. The core research areas of DiTIC focus on Building Information Modelling (BIM), Augmented Reality (AR) and Virtual Reality (VR), Big Data and Smart Cities.
Ends.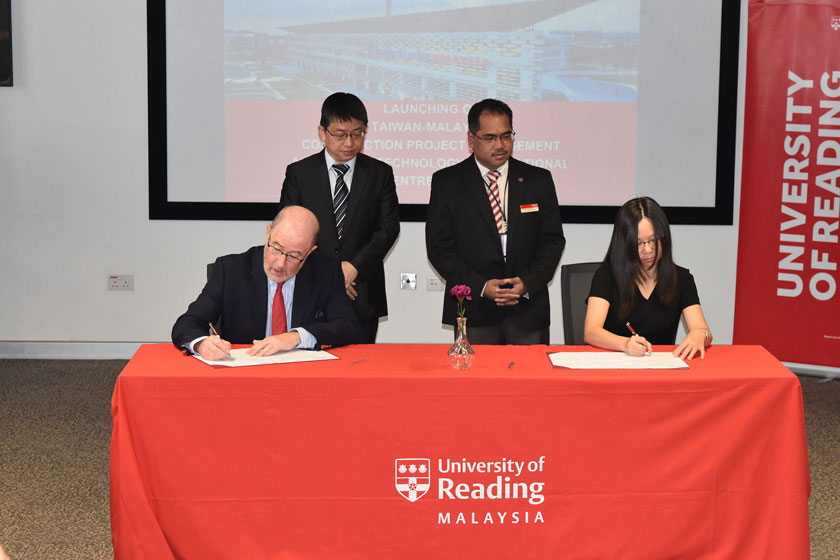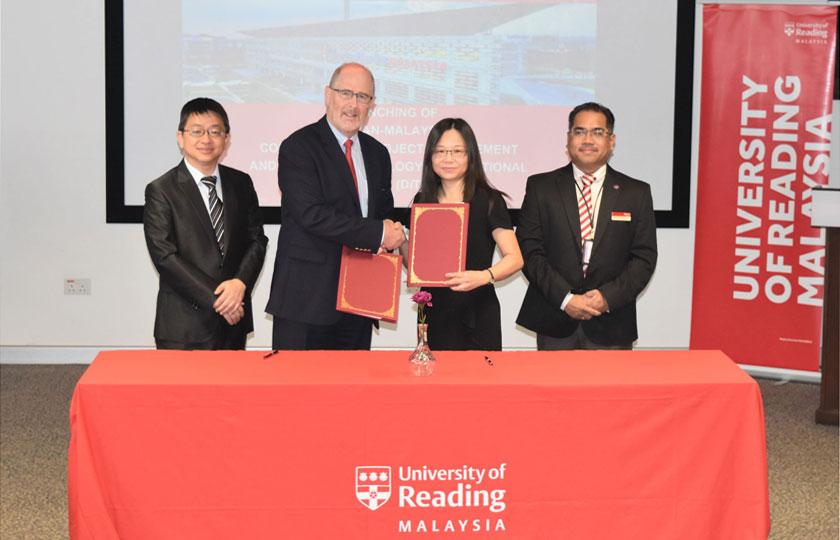 About the University of Reading Malaysia
The University of Reading Malaysia (UoRM) is the first overseas campus of the University of Reading in the UK and is based in EduCity, Iskandar Puteri, Johor.
Ranked in the top 200 of universities worldwide according to QS World University Rankings, the University has a long-established international reputation for the quality of its teaching and research. Together with Henley Business School, which is part of the university, UoRM offers a UK quality education for students at Foundation, Undergraduate, Postgraduate and Doctoral level in a range of subjects including accounting, business, construction, finance, investment banking, Islamic finance, pharmacy, psychology, property and surveying.
For media enquiries, please contact Beverley Tse at This email address is being protected from spambots. You need JavaScript enabled to view it..
About Tamkang University
Tamkang University consists of four campuses in Taiwan: the Tamsui Campus, the Taipei Campus, the Lanyang Campus, and the Cyber Campus. Tamkang is comprised of eight colleges with a total of over 27,000 students, more than 2,100 faculty and staff members, and more than 250,000 alumni.
Tamkang is a university of ideals, vision, and creativity. It aims to help every Tamkangian establish a firm foothold at school and seeks to become a world-renowned, top quality comprehensive university by providing students with the most modern learning resources and training possible.
For more information on Tamkang University, visit: www.tku.edu.tw
For more information about the Taiwan-Malaysia Construction Project Management and Digital Technology International Centre (DiTIC) visit:
DiTIC Malaysia
DiTIC Taiwan