Welcome to the University of Reading Malaysia!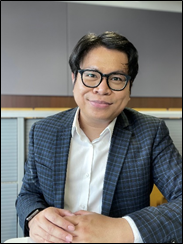 I would like to welcome our new students to the International Foundation Programme (IFP). You have made a great choice to join the University of Reading Malaysia (UoRM) as the first step in your journey towards your academic aspirations. For many of you, this can be an overwhelming time transitioning from high school to university, but you should not worry. We will guide you every step of the way until you get settled in.
We are committed to providing the best education at Foundation level. Every module offered in IFP has been developed with great care and consideration of how students learn at your age. We constantly review our modules and delivery to ensure the highest standards of quality.
Our faculty are highly qualified and are experts in their fields. These are some of the best and brightest educators in the nation. At UoRM, learning goes beyond the transfer of knowledge. By studying here, you will be a part of a world-leading and life-changing movement.
Our state-of-the-art, award-winning campus in EduCity, Iskandar is designed to give you the best university experience, while its surrounding community can give you a sense of home. We encourage diversity and inclusion at UoRM so that you will not only become future-proof graduates with excellent academic standing, but also citizens of the world with a strong sense of social justice.
If you have any questions about IFP or the University, feel free to contact me or any of our friendly officers from the Student Welfare and Academic Services (SWAS).
We invite you to join our community of academic excellence and high achievement.
April 2022
Mohd Ridhwan Abdullah
Head of Foundation, Study and Language Institute (FSLI)