Nurashikin Binti Abd Malik |
Foundation Lecturer in Mathematics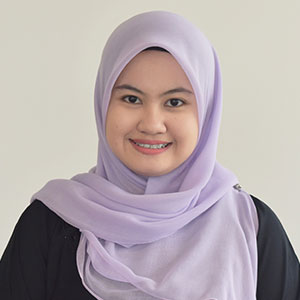 Nurashikin began her career as a Mathematics Lecturer in 2013 teaching mathematics to local international institutions. She has taught a variety of mathematics subjects to both foundation and undergraduate students.
Nurashikin has a strong passion in teaching. She holds a strong belief that learning maths is not only to pass the exam but also to encourage one to be more analytical reasoning abilities. These two skills are important because it improve one's problem solving skills.
Nurashikin holds a BSc in Pure Mathematics and MSc in Statistics from The National University of Malaysia. She also a member of Malaysia Institute of Statistics.
Email

This email address is being protected from spambots. You need JavaScript enabled to view it.

Telephone

+60 7 2686372

LinkedIn profile

 https://my.linkedin.com/in/nurashikin-binti-abd-malik-971a00b6

Speciality areas

 

Mathematics and Statistics

Highest qualification and awarding body

AFHEA, MSc in Statistics, BSc in Mathematics

UoRM programmes taught/supervised

Mathematics for Finance, Economics and Business

Mathematics

Statistics

Research interests

Time Series Analysis
Sampling Methods

Current projects

-

Recent publications

-