Dr Zahra Pourabedin | Lecturer in Marketing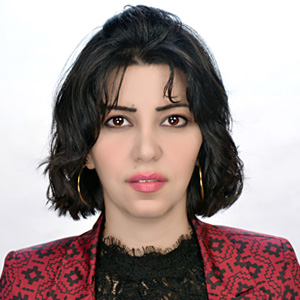 Dr Zahra Pourabedin studied marketing at UTM University. Prior to joining Henley Business School, University of Reading Malaysia, she held positions at universities in Iran and Malaysia. She has taught courses on various management and marketing subjects for undergraduate and postgraduate students. She has also supervised numerous postgraduate and undergraduate dissertations.
Zahra is a member of the Chartered Institute of Marketing (CIM).
Her current research focuses on multisensory image of hotels. She published articles in international journals including Tourism Management Perspectives.
Email

This email address is being protected from spambots. You need JavaScript enabled to view it.

Telephone

+607 2686347

LinkedIn profile

 

Speciality areas

Services Marketing, e-Marketing, m-Marketing, Tourism Marketing, International Business

Highest qualification and awarding body

Ph.D, UTM University

UoRM programmes taught/supervised

Markets, Marketing and Strategy
People and Organisations
Business Statistics

Research interests

Services Marketing, e-Marketing, m-Marketing, Tourism Marketing

Current projects

Multisensory image of hotels

Recent publications

Loyalty Membership for Luxury Hotels in Malaysia. Hassan,H., Pourabedin, Z., Sade, AB., Jiyayi., Ch. 2017. International Journal of Tourism Cities, Forthcoming
Pourabedin. Z (2017). Hotel image formation and loyalty: The case of heritage boutique hotels, The 50th Academy of Marketing Conference (AM2017), Hull Business School, UK. ISBN: TBC, pp. 82-83.
Social network analysis in tourism services distribution channels.TRAN, M. T., JEEVA, A. S. & POURABEDIN, Z. 2016. Tourism Management Perspectives, 18, 59-67
Customers' Online Channel Switching Behavior: The Moderating Role of Switching Cost.POURABEDIN, Z., FOON,Y. S., CHATTERJEE, R. S. & HO, J. S. – Y. 2016. International Information Institute (Tokyo). Information, 19, 2961
Mobile Marketing: The Role of Perceived Benefits.Z POURABEDIN, MW MIGIN, A JEEVA. 2015. Advanced Science Letters, 3, 1879-1881
Hotel Experience and Positive Electronic Word of Mouth (e—WOM). Z POURABEDIN, MW MIGIN. 2015. International Business Management, 9(4), 596-600