Dr Sivaraman Kuppusamy |
Lecturer in Built Environment and Career Development Coordinator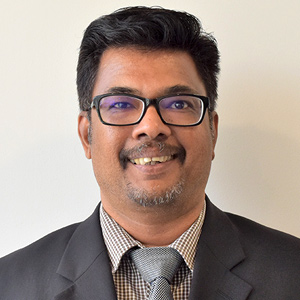 Dr Siva joined UoRM on 3rd January 2017. He was a Project Engineer/Project Manager/Project Development Manager in various established development and contractor companies in the construction industry.
In 1998 he began his career as an academic, with his appointment as Principal Lecturer and Adjunct Senior Lecturer serving in various institutions, namely Taylors University (Department of Quantity Surveying, Interior Design and Architecture), Stamford College (Department of Quantity Surveying and Estate Management), University College Sedaya International (UCSI- Faculty of Engineering, Architecture and Built Environment), Limkokwing University of Creative Technology (Faculty of Architecture and Built Environment), University Tunku Abdul Rahman (UTAR-Department of Construction Management and Architecture), Imperia University College (Department of Real Estate Management and Development) and Tunku Abdul Rahman University College (TARUC-Department of Building and Architecture).
Dr Siva has successfully supervised more than 35 undergraduate Quantity Surveying students and co-supervised 10 Master's in Architecture students especially in Environmental and Technology streams.
Dr Siva is a certified Green Building Index Facilitator and also an active member in the Association of Project Management (APM-UK), International Project Management Association, Building Technology Educators Society, Society of Building Science Educators and Network for Comfort and Energy Use in Buildings.
Email

This email address is being protected from spambots. You need JavaScript enabled to view it.

Telephone

+607 2686259

LinkedIn profile

https://www.linkedin.com/in/dr-sivaraman-kuppusamy-51367b35

Speciality areas

Construction Project Management
Sustainability/Green Building

Highest qualification and awarding body

Doctorate in Education, University Selangor

UoRM programmes taught/supervised

BSc Quantity Surveying

Research interests

Construction Project Management
Green Building and Sustainability
Environmental Literacy

Current projects

Thermal Comfort
Embodied Energy
Green Building Knowledge Among QS

Recent publications

Kuppusamy, S, Mari, T.S., Gunasagaran, S., (2016), "Development of Career Related and Teamwork Skills Using Service Learning in Undergraduate Architecture Education". TARUC International Conference on Learning and Teaching (TIC 2016). Link

Kuppusamy, S, (2016), "Environmental Literacy of Year 2 and Year 3 Undergraduate Architecture students in selected private universities", National Postgraduate Education Research Colloquium.

Kuppusamy, S, Mari, T.S., (2011), "Instilling Environmental Awareness in Architecture Students", 5th International Conference On Built Environment in Developing Countries (ICBEDC 2011).

Kuppusamy, S, Mari, T.S., (2010), "Consideration of Embodied Energy of Building Materials in Local Construction", 4th.International Conference On Built Environment in Developing Countries (ICBEDC 2010).

Kuppusamy, S, (2007), "Thermal comfort, temperature and humidity variation according to Malaysian terrace house orientation", 41st. Australia & New Zealand of Architectural Science Associations Conference (ANZAScA 2007) on Challenges for Architectural Science in Changing Climates. Link