Dr Chai Chang Saar |
Lecturer in Built Environment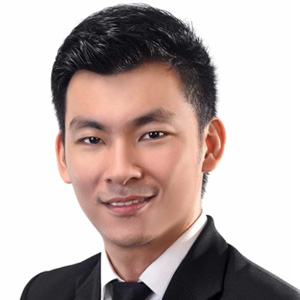 Dr. Chai Chang Saar is a lecturer in School of Built Environment, UoRM. He has spent 5 years in construction industry, completing several projects in Singapore and Malaysia before joining the academia. He is well-respected not only in his unparalleled professional track record and high ethical standards, but also being a committed person to ensure the success of his projects.
Chai obtained his technical degree, MSc and PhD from UniversitiTeknologi Malaysia in 2008, 2009 and 2014 respectively. Prior to joining UoRM, Chai held positions in UTM and UTAR. He has taught various subjects in construction project management for undergraduate and postgraduate. Besides, he is supervising several PhD theses, postgraduate and undergraduate dissertations. 
Chai is an active researcher. His research interest encompasses construction project management and Building Information Modeling. Currently, he is expanding his research area to AR-BIM and VR-BIM and he believes it will be the future for building design and construction. He has published technical papers in leading international journals and proceeding. Additionally, he has been selected for several international journal manuscript reviewers and editorial board member.
Email

This email address is being protected from spambots. You need JavaScript enabled to view it.

Telephone

+60168078067

LinkedIn profile

Speciality areas

Digital Twining in Construction

Building Information Management

Construction Project Management

Highest qualification and awarding body

PhD (Civil Engineering), Universiti Teknologi Malaysia

UoRM programmes taught/supervised

PhD in Built Environment
MSc Construction Management
BSc Quantity Surveying

Research interests

Digital Twining in Construction

Building Information Management

Construction Project Management

Current projects

Building Information Modelling adoption in Augmented Reality and Virtual Reality.
SEM Formulation for Digital Twining in Malaysian Construction Industry

Recent publications

Refereed Publication

Abdulrahman, Chai Chang Saar, Eeydzah A. (2019). Integration of As-Built BIM and AR in Construction Industry. Journal of Information Technology in Construction. (Forthcoming).

Loo Siaw Chuing, Chai Chang Saar, Fan Su-Ling. (2019). Legal Issues and Solutions of Building Information Modelling in Construction Projects. Management in Built Environment(Forthcoming).

Fan Su-Ling, Chai Chang Saar, Loo Siaw Chuing (2019). Using Cased-Based Reasoning to Evaluate Building Information Modeling Benefit.Journal of Civil Engineering and Management(Forthcoming).

Chai Chang Saar, Fan Su-Ling, Loo Siaw Chuing. (2019).Integration of AR in BIM: Applicability and Practicality International Journal of Engineering and Technology Innovation(Forthcoming).

Loo Siaw Chuing, Chai Chang Saar, Fan Su-Ling. (2019).Communication Risks in Managing Construction Project using Mobile Communication Application. International Journal of Engineering and Technology Innovation(Forthcoming).

Chai Chang Saar, Tan Cher Siang, FatinAfiqah Ahmad Bajuri, Loo Siaw Chuing, Aminah Md Yusof and Lee Xia Sheng. (2019). Building Information Modelling Adoption in Malaysian Industrilised Building System. International Journal on Advanced Science, Engineering and Information Technology. (Forthcoming).

Tey Kim Hai, Chai Chang Saar and Aminah Md Yusof (2018). Conceptualizing 4Cs in Construction Project Team Integration. Malaysia Construction Research Journal. Vol 24, No 1.  83-96.

Aref C., CS Chai, AM Yusof, SC Loo and HY Chong. (2017). Building Information Modeling in Construction Conflict Management. International journal of Engineering, Business Management. Vol 9, 1-18.

SY Lim, CS Chai, AM Yusof, SC Loo, HY Chong. (2017). An Empirical Review of Integrated Project Delivery System. International Journal of Innovation, Management abd Technology. Vol 8, 1, 1-8.

ChangSaar Chai, CherSiang Tan, Eeydzah Aminudin, SiawChuing Loo, KaiChen Goh, MayChuan Theong, XiaSheng Lee and LiWei Chin.(2017). The Potential Cost Implications and Benefits from Building Information Modeling in Malaysian Construction Industry. MATEC.

Chai Chang Saar, Loo Siaw Chuing, Aminah Md Yusof, Rozana Zakaria and Theong May Chuan. (2017).  Construction Cost Index: A Case Study in Malaysia. AIP.

Nur Fakhirabt Azmi, ChangSaar Chai, Mohd Norazam bin Yasin,LiWei Chin.(2016). Building Information Modeling (BIM) in Malaysian Architechture, Engineering and Construction (AEC). The Chinese Research Institute of Construction Management (CRIOCM) 2016.

Chin LiWei, Chai ChangSaar, Aminah Md Yusof.(2016). The Cost Benefits of Building Information Modeling (BIM) in Malaysia Construction Industry. The Chinese Research Institute of Construction Management (CRIOCM) 2016.

Jatarona, N. A., Yusof, A. M., Ismail, S. & Saar, C. C. (2015).Problems in public construction project in Malaysia: Evidence from National Audit Report. Proceedings of the 26th International Business Information Management Association Conference - Innovation Management and Sustainable Economic Competitive Advantage: From Regional Development to Global Growth, IBIMA 2015. International Business Information Management Association, IBIMA, p. 1337-1358.

Charehzehi, A., Yusof, A. M., Chai, C. & Chong, H. Y. (2015). Conceptualizing Building Information Modeling: In Construction Conflict Management. Proceedings of the 26th International Business Information Management Association Conference - Innovation Management and Sustainable Economic Competitive Advantage: From Regional Development to Global Growth, IBIMA 2015. International Business Information Management Association, IBIMA, p. 811-817.

Chang Saar Chai, Aminah Md Yusof and HadinaHabil. (2015). Delay Mitigation in the Malaysian Housing Industry: A Structural Equation Modelling Approach. Journal of Construction in Developing Countries, 20(1), 65–83, 2015.

Aminah Md Yusof, Chai ChangSaar, Julaida Johan. (2014). An Analysis of Housing Affordability Among Potential House Buyers in The City of Kuala Lumpur. CRIOCM 2014.

Chai ChangSaar and Aminah Md Yusof (2013). Delay Mitigation in Malaysian Housing Industry: A Structural Equation Modeling Approach. Journal of Construction in Developing Countries, 20(1), 65–83, 2015.

Justin Lai, Rosli Zin and Khairulzan Yahya. (2016). Engineering Consultancy Practice (ECP) Business Model In Malaysia: A Structural Equation Modeling (SEM) Approach. International Journal of Business and Management.  Vol 11, No 3 (2016).

Chai Chang Saar and Aminah Md Yusof (2014). SEM Approach: Reclassifying Housing Delay in Malaysian Housing Industry. Journal of Economics, Business and Management (JOEBM). Vol 3, No 3: 364-369. ISSN:2301-3567.

Chai Chang Saar and Aminah Md Yusof (2013). Reclassifying Housing Delivery Classifcation. International Journal of Business and Management: Vol. 8, No 22: 2013, 107-117. ISSN 1833-3850 E ISSN-8119. Canadian Centre of Science and Education

Book and Book Chapters:

Chang Saar Chai and EeydzahAminuddin. (2017). Building Information Modelling- A Case Study in Malaysia. UTM Press, Malaysia.

Chang Saar Chai and Noor NabilahSarbini. (2017). Knowledge Management in Malaysian Construction Industry. UTM Press, Malaysia.

Postgraduate Students

Taught Course

MEng Construction Management (Graduated)

Chin Li Wei (Best Student Award Recipient)
FatinAfiqah Ahmad Bajuri
Abdul Rahman Othmani
Abdulrahman Mohamed

Research

MEng Civil Engineering (Co-Supervise)

Julaida Johan

PhD Civil Engineering (Co-Supervise)

Nurul AlifahBtJantaro
ArefCharehzehi (on-going)
Santi Edra Nisa Lau (on-going)