Dr Andreas Kalckert |
Lecturer in Psychology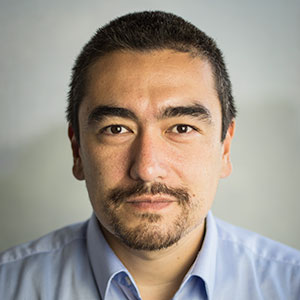 Dr Andreas Kalckert has a background in neuroscience and cognitive science, and was awarded a PhD by Stockholm's Karolinska Institute in 2014. In his research he explores the processes underlying the experience of the own body. Here he is particularly interested in the role of movements, which combines questions of perception (how do I perceive my movement?) and motor research (how do I control my movement?). He addresses these questions from both a psychological and neuroscientific perspective.
Besides his research Andreas has been involved in teaching for many years, particularly in topics relating psychology to brain science. He has also participated in a number of outreach events/projects and is currently a member of an NGO to promote science in public discussions.
Andreas joined the University of Reading Malaysia in August 2015.
Email

This email address is being protected from spambots. You need JavaScript enabled to view it.

Telephone

+60 7 268 6293

LinkedIn profile

www.linkedin.com/in/andreaskalckert
www.researchgate.net/profile/Andreas_Kalckert

Speciality areas

Cognitive neuroscience
Experimental psychology
Neuropsychology

Highest qualification and awarding body

PhD in Neuroscience; Karolinska Institute, Stockholm

UoRM programmes taught/supervised

BSc (Hons) Psychology:
PY1PC Perception
PY1IN Introduction to Neuroscience
PY1PR Psychological Research
PY2NS Neuroscience
PY1BP - Biopsychology
PY3BIA - The body in action

Research interests

Neural and cognitive mechanisms of the experience of the body
Body representation and its implications in neurological and psychiatric disorders
Motor control/cognition
Multisensory perception
Embodied cognition

Current projects

Investigating visuotactile processing in active and passive movements: a EEG study. Collaboration with Dr Adrian Willoughby, Dr Treshi Perera, Dr Davide Mussi (all UoRM, Malaysia), Prof Slawomir Nasuto (UoR, UK)
The role of the own body in experiences of virtual reality scenarios. Collaboration with Zi Siang See (Sunway University, Kuala Lumpur, Malaysia) and Prof. Denise Dillon (James Cook University, Singapore)
Rubber hands in space - perceptual factors in the rubber hand illusion revisited. Collaboration with Dr Treshi Perera (UoRM, Malaysia)
The neural correlates of the moving rubber hand illusion. Collaboration with Ass. Prof. Noriaki Kanayama (AIST, Tokyo, Japan) and Ryosuke Hiramoto (Hiroshima University, Japan)

Recent publications

Commentary: Switching to the rubber hand by Yeh et al., 2017. Kalckert, A. Frontiers in Psychology

The onset time of the ownership sensation in the moving rubber hand illusion Kalckert, A. and Ehrsson, H.H.; Frontiers in Psychology. 8:344 (2017)

Commentary: Embodying Others in Immersive Virtual Reality: Electro-Cortical Signatures of Monitoring the Errors in the Actions of an Avatar Seen from a First-Person Perspective Kalckert, A. Frontiers in Psychology. 7:1260. (2016)

Louzolo, A., Kalckert, A., & Petrovic, P. (2015). When passive feels active - delusion-proneness alters self-recognition in the moving rubber hand illusion. PLOS ONE, 10(6), e0128549. doi:10.1371/journal.pone.0128549

Kalckert, A., & Ehrsson, H. H. (2014). The spatial distance rule in the moving and classical rubber hand illusions. Consciousness and Cognition, 30, 118–132. doi:10.1016/j.concog.2014.08.022

Kalckert, A., & Ehrsson, H. H. (2014). The moving rubber hand illusion revisited: Comparing movements and visuotactile stimulation to induce illusory ownership. Consciousness and Cognition, 26, 117–132. doi:10.1016/j.concog.2014.02.003

Schmalzl, L., Kalckert, A., Ragnö, C., & Ehrsson, H. H. (2013). Neural correlates of the rubber hand illusion in amputees: A report of two cases. Neurocase, 20(4), 407–420. doi:10.1080/13554794.2013.791861

Kalckert, A., & Ehrsson, H. H. (2012). Moving a rubber hand that feels like your own: A dissociation of ownership and agency. Frontiers in Human Neuroscience, 6(40), . doi:10.3389/fnhum.2012.00040

Weiss, P. H., Kalckert, A., & Fink, G. R. (2009). Priming letters by colors: Evidence for the Bidirectionality of Grapheme–Color Synesthesia. Journal of Cognitive Neuroscience, 21(10), 2019–2026. doi:10.1162/jocn.2008.21166