Putri Nurain Shazana | Teaching Fellow In Psychology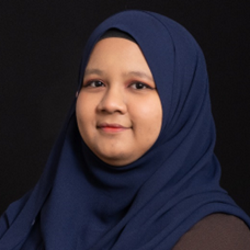 Putri graduated in 2018 with a degree in BSc Psychology (Hons) from Help University. She then pursued MSc Clinical Psychology and Mental Health in Swansea University and graduated in 2020.
Putri has an interest in pursuing a PhD with topics that align her research interests which are developmental psychology in children and forensic psychology. Her master's dissertation topic was Self-Esteem and How it links with behaviour; the study looks at how implicit and explicit self-esteem (specifically Agency) are associated with Psychopathy and Aggression). Putri is also keen in pursuing a master's in clinical psychology in order to be eligible to practice in Malaysia as a Clinical Psychologist.
Putri keen interest is looking at topics such as feminism, abuse and neglect in children and how it affects their emotional development. She would like to advance her career in both academia and as a therapist.
Email

This email address is being protected from spambots. You need JavaScript enabled to view it.

Telephone

+60 7 2686299

Web profile

https://www.linkedin.com/in/putrishazana9612/

Highest qualification and awarding body

MSc Clinical Psychology and Mental Health at Swansea University

UoRM programmes taught/supervised

BSc (Hons) Psychology:

PY1IPR-Introduction to Psychological Research
PY1LAL-Learning about Learning

Research interests

Forensic Psychology
Personality Psychology
Developmental Psychology