Nur Hamizah Hj. Ramli | PhD in Psychology Student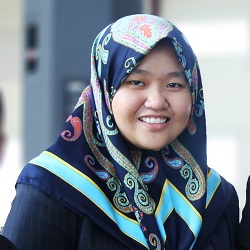 Hamizah Ramli, a Bruneian, joined University of Reading Malaysia in 2019 to pursue her PhD in Psychology as soon as after she obtained her Master of Child Psychology from UCSI University, Malaysia.
Growing up, she occasionally mixed up with the "wrong circle" because she had this ideation instilled that regardless how bad they are, whatever the circumstances are, there are some parts of them that are still good and that, is worth to be seen if they were given a chance with a proper help.
Due to that, it peaked her interest in understanding them more, which leads to why she is interested in researching about juvenile delinquency and conduct disorder.
Email

This email address is being protected from spambots. You need JavaScript enabled to view it.

LinkedIn profile

https://www.linkedin.com/in/meezhr

Speciality areas

Child Clinical Psychology

Highest qualification and awarding body

Master of Child Psychology - UCSI University (2019)

Research interests

Conduct Disorder, Juvenile Delinquency

Current projects

Juvenile Delinquency and Conduct Disorder (Supervised by Dr Kai Li and Assoc. Prof. Dr Rachel Pye)

Recent publications

Fitriana, M., & Hj. Ramli, N. (2019). Psychosocial Determinants of Antisocial Behavior among Young Adults in Kuala Lumpur. Proceedings Of The 2Nd International Conference On Intervention And Applied Psychology (ICIAP 2018). doi: 10.2991/iciap-18.2019.8

Hj. Ramli, N., Alavi, M., Mehrinezhad, S., & Ahmadi, A. (2018). Academic Stress and Self-Regulation among University Students in Malaysia: Mediator Role of Mindfulness. Behavioral Sciences, 8(1), 12. doi: 10.3390/bs8010012