Nur Amirah Abd Wahab | Lecturer in Built Environment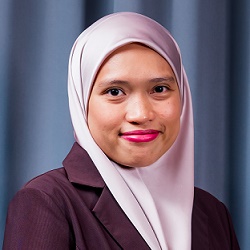 Nur Amirah Abd Wahab graduated with a Bachelor of Quantity Surveying (Hons) from University of Technology MARA in 2012. She has been working in the construction industry since 2012, playing an important role as a quantity surveyor in pre and post contract stages at consultancy and contractor firms before entering the teaching profession.
Nur Amirah's interest in BIM was born while she was completing her degree and she has since deepened her knowledge and interest in how BIM is developing in terms of digital design and construction phases and how integrated practices could improve the project outcome.
In order to increase her knowledge and expand her skills in BIM tools, Nur Amirah studied BIM and obtained a Master of Science in BIM & Integrated Design from University of Salford, UK
Nur Amirah believes the future of BIM is bright and that it offers the construction industry a big opportunity for positive change, and way to cut costs, time and wastage during a project.
Email

This email address is being protected from spambots. You need JavaScript enabled to view it.

Telephone

+60 7 268 6378

LinkedIn profile

Speciality areas

Quantity Surveying

Building Information Modelling

Construction Project Management

Facilities Management

Highest qualification and awarding body

Bachelor of Quantity Surveying (Hons)

Master of Science Building Information Modelling & Integrated Design (University of Salford, UK)

UoRM programmes taught/supervised

Introduction to Quantification and Computerised Taking Off
Management in the Built Environment
Information and Communication
Construction Site Engineering
Projects (Introduction to Research Ethics and Skills)
Dissertation

Research interests

Building Information Modelling for Cultural Heritage
Digital Built Environment
Information Technology
Facilities Management
Integrated Project Delivery

Current projects

From Point Clouds to Heritage Building Information Modelling

Recent publications