Mohd Talhar Abdul Rahman | Visiting Fellow, Former Chairman of CBRE | WTW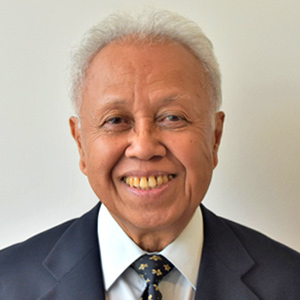 Talhar's professional career started while he was a Trainee Estates Officer with the Welwyn Garden City and Hatfield Development Corporation in England. Talhar began his public sector career when he joined the Johor State Civil Service in the Local Government and Housing Development. In 1967, he joined the Valuation Department of the Ministry of Finance as Regional Valuation Officer based in Johor Bahru, Malaysia.
During his career in private practice, he was involved in all aspects of the real estate profession from Valuation to Development Management and Consultancy, serving most major public agencies, public listed and private corporations nationwide.
In 2001-2002, Talhar served as Adjunct Professor at the University Technology Malaysia. In 2002, he was the first recipient of the Valuer of the Year award by the Board of Valuers, Appraisers and Estate Agents Malaysia.
Email

This email address is being protected from spambots. You need JavaScript enabled to view it.

Telephone

+607 2243388

LinkedIn profile

Speciality areas

As practising surveyor, Talhar's areas of speciality include:

Conducting market, feasibility and development studies and development management covering related valuation reviews.
Providing consultation on acquisitions and disposals and marketing strategies.
Leading/coordinating related consultants and property professionals in a development team.
Valuation for real property assets for corporate financial reporting purposes.
Valuation for land acquisition purposes and presenting expert evidence.
Commercial property development and management covering either owners' or occupiers' interests as representatives.

Highest qualification and awarding body

College of Estate Management, University of London

UoRM programmes taught/supervised

Advises the BSc Real Estate at the University of Reading Malaysia

Research interests

Current projects

Professional Affiliations/Accreditations

Registered Valuer (V0007)
Registered Real Estate Agent (E0110)
Past Member of the Board of Valuers, Appraisers and Estate Agents Malaysia
Fellow of the Royal Institution of Surveyors Malaysia (RISM)
Fellow of the Royal Institution of Chartered Surveyors (RICS)
Member of the Singapore Institute of Surveyors and Valuers
Fellow of the Institute of Directors (IoD)
Past Council Member of the ASEAN Valuers Association (AVA)
Past Chairman of the ASEAN Valuation Standards Committee
Past Malaysian Representative and Management Board Member of the International Valuation Standards Committee (IVSC)
Past Council Member of the RISM
Founder and Past President of the Association of Valuers, Property Managers, Estate Agents and Property Consultants in the Private Sector Malaysia (PEPS)