Mohamed Hasif Jazila Sakri | Foundation Lecturer in English for Academic Purposes (EAP)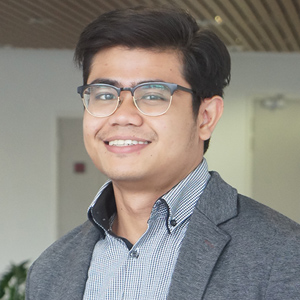 Hasif started teaching Academic English in 2014 and has garnered experience in teaching at both public and private local universities.
This experience has led Hasif to embrace the belief that teaching language learners is not merely confined to entering the classroom and giving lectures, as the teaching approaches that are required to nurture the progress of students vary from one class to another. The need to be proficient in English is important and as such, Hasif aspires to help the students to realise their language potential. He believes there are extrinsic and intrinsic factors that can affect students and it is the responsibility of the teacher to be able to help students with their growth and encourage them to be the best version of themselves.
Hasif holds an MA in teaching English to speakers of other languages from the University of Leicester.
Email

This email address is being protected from spambots. You need JavaScript enabled to view it.

Telephone

+60 7 268 6276

LinkedIn profile

-

Speciality areas

English for Academic Purposes (EAP)
English as a Second Language (ESL)
English Language Teaching (ELT)

Highest qualification and awarding body

Master of Arts in TESOL (Teaching English to Speakers of Other Languages) University of Leicester, United Kingdom.

Bachelor of Education in TESL (Teaching English as a Second Language) The National University of Malaysia (UKM), Malaysia

UoRM programmes taught/supervised

Academic Skills
International English
Pre-sessional English
Study Advice – English

Research interests

Sociolinguistics, English Language Teaching, Language Acquisition, Intercultural Communication.

Current projects

-

Recent publications

Yunus, M. M., Li, L. K. S., Said, N. E. M., Sakri, M. H.J., Azrie, K. M. & Redza, Z. (2012). Learning writing using the Internet: ESL students' perception. In D. Anderson, H.-J. Yang & P.

Varacha (Eds.), Latest Trends in Information Technology (pp. 361-366). Vienna, Austria: WSEAS Press.