Assoc. Prof. Dr Rachel Pye | Head of Psychology & Clinical Language Sciences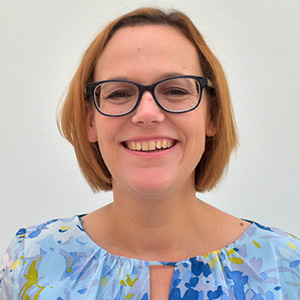 Assoc. Prof. Dr Rachel Pye was awarded a PhD in Psychology by the University of Reading in 2008, for her thesis on predicting improvement in reading in dyslexic children. She worked as a post-doctoral researcher at the University of Reading with Dr Carien van Reekum and Prof Patricia Riddell, before taking a lectureship at the University of Winchester. She returned to the University of Reading in 2014, and took on the role of Director of Teaching and Learning for undergraduate psychology programmes. During her time there, she won a Collaborative Teaching Award (2016) and a prestigious University Teaching Fellowship (2016), and now holds the title of Associate Professor. Her research continues to focus on reading and dyslexia, moving towards literacy in a multilingual environment.
Rachel joined UoRM in 2017, and heads a growing and vibrant team of international researchers and lecturers.
Email

This email address is being protected from spambots. You need JavaScript enabled to view it.

Telephone

+60 7 268 6290

LinkedIn profile

Speciality areas

Developmental psychology

Highest qualification and awarding body

PhD in Psychology, University of Reading, 2008

UoRM programmes taught/supervised

BSc (Hons) Psychology:
PY1DV Developmental Psychology
PY2RM Research Methods and Data Analysis
PY3TAR Typical and Atypical Reading
PhD in Psychology

Research interests

Reading and dyslexia, reading across languages, reading using technology

Current projects

How do reading and listening to stories facilitate vocabulary acquisition? (with Dr Carmel Houston-Price, Dr Jessie Ricketts and Alessandra Valentini – PhD candidate)
Word learning in a multilingual context (with Dr Carmel Houston-Price, Prof Theo Marinis and Eleanor Luckcock – PhD candidate)
The transposed letter effect in regular and irregular words. (with Clare Lally – MSc student)
Reading comprehension and vocabulary learning when reading on iPads (with Dr Kirsty Ross and Dr Jordan Randell)

Recent publications

Pye, R. E. and Simpson, L. K. (2017) Family functioning differences across the deployment cycle in British Army families: the perceptions of wives and children. Military Medicine. ISSN 1930-613X (In Press)

Ross, K. M., Pye, R. E. and Randell, J. (2016) Reading touch screen storybooks with mothers negatively affects seven-year-old readers' comprehension but enriches emotional engagement. Frontiers in Psychology, 7. 1728. ISSN 1664-1078 doi: 10.3389/fpsyg.2016.01728