Sr Dr. Fara Diva Mustapa, PQS,MRICS, MRISM | Adjunt Lecturer of Built Environment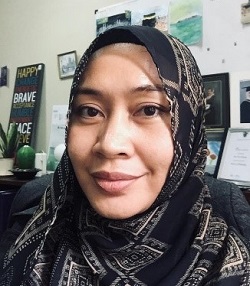 Fara Diva Mustapa attained both her Diploma and 1st degree in quantity surveying from Universiti Teknologi Malaysia in 2002. She received Royal Institution of Surveying Malaysia's (then known as Institution of Surveyors Malaysia (ISM)) academic award, the Lawrence Chin Memorial award in 2002 for her outstanding academic performance in quantity surveying studies. She joined the Malaysian construction industry as a quantity surveyor in a construction company. Later, she was offered a scholarship to pursue her Master degree in construction economics and management at Bartlett School of Architecture, University College London (UCL) (UK). Upon completion of her master degree's study, she joined Universiti Teknologi Malaysia as Lecturer in Department of Quantity Surveying where she teaches in construction economics' related subject. She then pursued her PhD at Loughborough University, UK in construction economics, specialising in labour economics' studies. She attained her PhD in 2014 where she continues her service as Senior Lecturer at Department of Quantity Surveying. Currently, she is an adjunct lecturer at University of Reading Malaysia.
She is registered as a Professional Quantity Surveyor (PQS) with the Board of Quantity Surveyors, Malaysia and a member of the Royal Institution of Surveyors, Malaysia (MRSIM). She is also a member of the Royal Institution of Chartered Surveyors (MRICS). Recently, she was appointed as an external examiner for Quantity Surveying programme at SEGi University, Kota Damansara. She is also trainee panel member with the Board of Quantity Surveyors, Malaysia for the accreditation of the Quantity Surveying courses that are offered by the Institutions of Higher Learning.
Email

This email address is being protected from spambots. You need JavaScript enabled to view it.

LinkedIn profile

Fara Diva Mustapa

Speciality areas

Construction economics

Highest qualification and awarding body

PhD, Loughborough University, UK

UoRM programmes taught/supervised

Construction Economics
Economics for construction and engineering

Research interests

Construction economics
Cransaction cost economics

Recent publications

T.K, Bean, F.D, Mustapa & M. Mustapa (2019). Research Methodology: A Preliminary Approach for Investigating the Transaction Cost Economics in Building Information Modeling (BIM) Adopted Procurement. 1st International Graduate Conference of Built Environment and Surveying (GBES 2019), Universiti Teknologi Malaysia, Johor Bahru, Malaysia 24th – 25th June 2019.

Kipli, K, Abdullah, F & Mustapa, F, (2019). Barriers for Knowledge Management in PFI Projects. 1st International Graduate Conference of Built Environment and Surveying (GBES 2019), Universiti Teknologi Malaysia, Johor Bahru, Malaysia 24th – 25th June 2019.

Toh, K. B; Mustapa, F.D; MUSTAPA, M (2019). Unbundling Transaction Cost Components in BIM Procurement. 3rd Asia International Multidisciplinary Conference 2019, 1-2 May 2019, Universiti Teknologi Malaysia, Johor Bahru, Malaysia 13 -15 August 2018.