Dr. Chithra Latha Ramalingam | Associate Prof of Law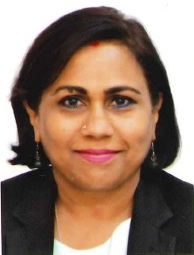 A PhD graduate from the University of Malaya, Chithra Latha has the ability to encourage and empower students to be passionate about law and ethics has been achieved through her years of experience in the education and training industry. She believes in dynamism, enthusiasm, energy, and humour as her tools to build her passion to deliver the right knowledge and education both in and out of the classroom. Experience gained locally and Internationally in the last 26 years has provided her with good cross-jurisdictional knowledge of the law to be incorporated in her lectures.
In terms of research, she has researched areas of Public Law, Corporate Governance, Employment Labour Law, and Socio-Legal in Sports. Her experience in research is well compounded by the fact that she has a keen interest and has authored and co-authored in some local and international journals. She has also authored study texts in some areas of Law for Open University Malaysia and contributed to book chapters with leading experts in Malaysian Laws. She is also a big advocate of the sustainable development goal of the UN.
Her experience in academia has alleviated her profile to training and consultancy. Her most notable achievement was being a trainer and consultant for the Malaysian Anti-Corruption Commission (MACC) on Company Law and Corporate Governance-related matters to understand the intricacies of the legal issues related to company and governance matters.
Email

This email address is being protected from spambots. You need JavaScript enabled to view it.

Speciality areas

Corporate Governance

Company Law

Employment and Labour Law

Commercial Law

Highest qualification and awarding body

PhD from University Malaya

UoRM programmes taught/supervised

Public Law 2

Commercial Law

Contract Law

Research interests

Human Governance (discrimination, equality and ethics)

Current projects

Co-Researcher

Establishing A Regulatory Framework for Online Ombudsman in Malaysian Higher Education Sector (Ref: FRGS 1/2019/SSI10/UIAM/02/3)
Aligning a national AI ethics framework with Malaysian values to govern the development and deployment of trustworthy and responsible AI systems in Malaysia (Ref: RGS/1/2021/SSI0/HELP/02/1)

Recent publications

Selected Book Chapter Publication:

Main Author:

Pride and Prejudice of Legal Imperialism and with Reference to Preserving English Law in Malaysia: Making Sense the Doctrines of Reception and Subsequent Attraction ( Malaysian Legal System 2nd Edition edited by Prof Ashgar Ali Ali Mohammed in Malaysian CLJ Publisher)
Legal Education Toward Common Bar Course and Common Bar Examination ( Malaysian Legal System 2nd Edition edited by Prof Ashgar Ali Ali Mohammed in Malaysian CLJ Publisher)

Co-Author:

Mediation: Religious and Cultural Disputes in Alternative Dispute Resolution Law and Practice (Malaysian Current Law Journal ) (2020) edited by Prof Ashgar Ali Ali Mohammed et al)
COVID-19 Impact on Selected Employment Relationship Issues by De Gruyter Publisher https://doi.org/10.1515/9783110723694

Peer Reviewed Publication:

Main Author:

The Awakening of the Dinosaurian of the Malaysian Labour Laws (Malayan Law Journal Volume 6 November 2020)
Pride and Prejudice of Legal Imperialism and with Reference to Preserving English Law in Malaysia: Making Sense the Doctrines of Reception and Subsequent Attraction ((Malayan Law Journal Volume 5 September/October 2019)

Co-Author

The Eclipse of Basic Structure Doctrine: An assessment of Clash Between Three Titans and Maria Chin v Director General of Immigration [2021] 3 MLJ clxxvii
Constitutional Supremacy and the Rule of Law: The Emergence of Constitutional Oath [2021] 3 MLJ Iv
Constitutional Oath of Judges: A comparison with Australia, UK, US, and India [2021] 3 MLJ cxxi
Protection Against Exploitation of Migrant Journal of Legal, Ethical and Regulatory Issues (2020), 23 (Special Issue). pp. 1-10. ISSN 1544-0036 E-ISSN 1544-0044
Transforming Legal Education Teaching and Learning by the Remote Communication Technology [2021] 2 MLJ cxxxvii
Force Majeure Clause in Employment Contracts: Its Relevance in Malaysian Industrial Jurisprudence [2020] 5 MLJ xvi
Workplace Misconduct and The Requirement of Due Inquiry with Reference to the Practice in Malaysia (Malayan Law Journal Volume 4 July/August 2019)
A case study of what Malaysian Cyber Law Is -http://commons.erau.edu/cgi/viewcontent.cgi?article=1404&context=jdfsl

Open Access Journal

Co-author

Job Opportunities and Employability Skills Required of Business Graduates in Malaysia: An investigation through Online Job